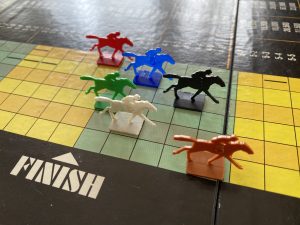 It's April 15th. Normally this is a day for celebration in our household. Peter has finished the long race to the end of tax season. He and his staff go out for margaritas to celebrate. At home we finally have time to discuss fun things like upcoming vacation plans and the start of baseball season.
This year, of course, everything is different. Taxes are not due for another three months. There are no vacations or baseball on the horizon. This day–normally a focal point of our whole year–will come and go without fanfare. It's just one more step in living out our new reality; somehow this morning writing a blog marking this milestone seems right.
As I write this all four members of my family are home and have no plans to go out–a first for an April 15th. The boys are sleeping in, Peter's working from home, I'm at my desk. There are silver linings in this crisis for sure. We've had more time together, a more relaxed schedule, and meaningful calls and texts with far-flung family and friends. Miguel, who normally lives in New York, is home with us now for a precious week. We are lucky for sure. Unlike those on the front lines or without resources, we can afford to stay home for the most part, eat good food and stay healthy.
In some ways, we've actually reached a bit of an equilibrium, if that's possible. We've learned to go out wearing masks, disinfect our groceries and use Zoom expertly. We've learned new recipes, dusted off our bikes and pulled out old board games from Peter's childhood.
I have to remind myself, though, that even just a month ago things we're only beginning to change and the stress was palpable. A month is a short time and so much has happened. So many in the world have suffered and are still suffering. I've at times felt helpless, small, anxious and angry. No wonder so many times this past month it's been hard to process all the change. No wonder I have found it difficult to write, pray or attend virtual church.
My personal journey into this new world started almost exactly a month ago. On Saturday, March 14, I had planned to lead a retreat for Lent at our church. Ironically, it was a day intended to help folks slow down and listen to God. I was looking forward to helping the participants enter into Lent and examine their lives more closely. However, a couple of days before the retreat, as news about the virus confirmed its severity and contagious nature, I decided to cancel it. I wasn't sure if I had made the right decision. I was disappointed. Maybe I had acted too soon? Maybe I had let my nerves about leading a retreat (unrelated to the virus), get the better of me. But then, a few days later, the Bay Area and then California ordered a lockdown—and I knew I had done the right thing.
A few days before the planned retreat, Wednesday, March 11, another stress was percolating. That day Miguel and his girlfriend Mickey flew from New York to Barcelona. They had been planning the trip for some time and wavered about going but in the end thought it might be OK. They thought it would even be better than staying in New York. Unfortunately, it wasn't OK. (While Barcelona wasn't yet in a crisis, the rest of Spain was getting hit hard.) As they were in the air, Trump announced there would be no more flights from Europe to the US. As soon as they landed in Barcelona they began a mad scramble to get tickets to come home. They spent the next three days calling airlines. Finally that Sunday, thanks to Mickey's mom, they got a flight through London to LA. After a long 20-hour layover at Heathrow, they arrived in LA, where they self-quarantined at Mickey's parents' home for several weeks. Sadly, while there, they also got the news that their college graduation ceremony in May would be postponed indefinitely.
While all these events unfolded, Peter, as a small business owner, had to make tough decisions about whether to keep his office open, how to make it safe for employees to pick up and exchange files, and educate himself about the various new laws that might affect his clients. He was resolute in his desire to pay all his employees fully and to accommodate clients who might be suffering from economic hits. For a guy who is the epitome of conscientious, I could almost physically feel the burden he was carrying. He felt a small bit of relief when on March 20 the IRS finally announced they were delaying the filing deadline. The office would plow on, at a slower but steady pace.
It was TJ, my youngest, who experienced change before anyone else. He was home for spring break the second week of March when his school, USF, announced that classes would go virtual the rest of the year and students had to move out of the dorms. The day we went to get his things in San Francisco was a sad day. As I packed up his Polaroid photos of friends, so lovingly displayed above his bed, and his mugs for tea and his snacks, I felt bad his dorm experience had come to an end so abruptly. At the same time, as I helped him take down his decorative lights and fold his clothes, I felt grateful. His first time living on his own had been positive, a major answer to prayer for any parent. I knew he'd get the chance to do it again eventually.
I'll never forget looking at TJ's stripped down dorm room one last time. It was empty but the view out his window, with downtown San Francisco in the distance, sparkled. The fading afternoon light illuminated the gold dome of city hall, the Salesforce Tower, the pyramid building and a slice of the Bay beyond that. I took one last photo. When we got in the car, TJ plugged his phone into the speaker and queued up John Steinbeck's East of Eden, a book we've both grown to love. Somehow that tale of a man trying to find himself and his place in a changing world seemed fitting.
Like Adam Trask, we are all trying to find ourselves in this new world. Just like Adam tried to fit into a pioneering turn-of-the-century California, we are trying to fit into this new landscape. It's not easy. It takes time. Sad things will happen. Good things too.
Last Saturday I had my first Zoom spiritual direction appointment. I have tried giving spiritual direction a few times before online, but it never felt quite right. So I had resisted meeting on Zoom, fearful the experience would be dry and detached. I was surprised this time. I sensed God's deep care for the life of my directee, both in the mundane details of his life and the truly holy and special ones. I felt restored and more filled with faith and hope after the conversation.
Our pastor told us recently that this week after Easter is called the "bright week" by Eastern Orthodox Christians. During this week we continue to celebrate the resurrection and our belief in a risen savior. The Easter season goes on even though Easter Sunday has passed.
I like the word "bright." It reminds me of hope. Of light. Of the light shining off those buildings in San Francisco even on a sad day. Of the silver linings even during quarantine. Of the warm eyes of my directee on a computer screen. As I go forward this strange April 15th day into the unknown future, I will try to remember all that is bright and hold it closely.
***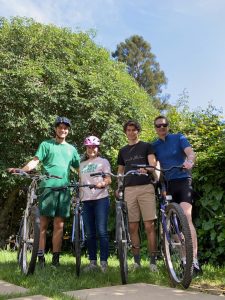 Our April 15th, 2020 bike ride.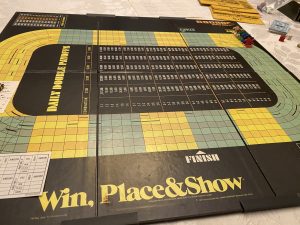 Peter's favorite childhood game, Win, Place and Show.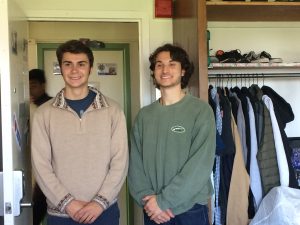 TJ with his freshman roommate, Enzo, on move-in day last August.