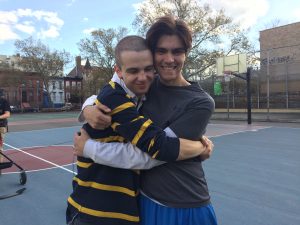 Earlier this month I flew to New York to watch my son Miguel film his final thesis project, a short movie he wrote, directed and starred in. It was fascinating observing a movie set up close and watching a group of about 20 people–cast and crew–throw themselves into the project for a marathon four days. I felt I had stepped into another world, the world of a New York film student, but also the world of a tender story about two brothers wrestling with their faith.
The most surprising part of the film experience for me was the amount of collaboration and teamwork. You hear about movie sets driven by big egos and lots of drama. But I sensed little of that on this set. Perhaps it was a testament to Miguel's calm demeanor and the relationships people had with one another. Every participant, from the assistant director to boom operator, knew their place and assumed their role enthusiastically. Most of these "kids" probably had little real film experience when they started film school three years ago. But somehow, as they've volunteered on each other's sets, they understand how to work together.
"Let's not give Miguel a haircut," called out one of the directors, asking for the camera operator to pull back a bit so the top of Miguel's head wouldn't be cut off in a particular scene.
"That was just beautiful," said another director after they had filmed a scene for the fifth time trying to get everything—the lighting, sound and timing of lines—just right.
The film takes up the story of two brothers, one straight and one gay, and their relationship. Miguel played the straight brother and his good friend Christian played the gay brother. Initial scenes establish the close friendship between the brothers as they eat dinner together at Miguel's apartment, play basketball and relax at a party. The tension arises when Miguel's character invites Christian's character to church and Christian hesitates before accepting his offer.
"Are you guys pretty chill, or more strict about stuff?" says Christian's character.
"I mean, I think it depends," says Miguel's character.
"I feel like you're either strict or not, right…so you guys don't like, hate gay people?" says Christian's character.
"What? Hahahaha, no! This is New York," says Miguel's character.
As a gay man, church is problematic for Christian's character and during the final scene we see what happens when he goes to church. (You'll have to watch the movie to find out the ending! Miguel hopes to have a final cut done next spring.)
So much of making a movie involves find the right locations. For the initial scene of the movie Miguel used my friend Tamara's aunt's apartment on the Upper West side. The crew transformed her elegant apartment into what could pass for a hip, 20-something space by bringing in original paintings, rearranging furniture and adding special lighting. Victoria (owner of the apartment) was a bit stressed as her apartment filled up with camera equipment, charging batteries and people. We set up a table in the hallway outside the apartment for snacks and coffee. My job that day simply involved getting snacks in the morning and cookies from Levain Bakery in the evening. All ended well as the crew did a nice job of reassembling everything by 11 pm that night. Phew.
One scene was shot outside on a basketball court and I learned how difficult outside scenes can be. The shooting was interrupted by honking horns, people walking through the court and changing light patterns from clouds passing overhead. When you watch a movie you don't think about all the work and time that goes into capturing the perfect shot.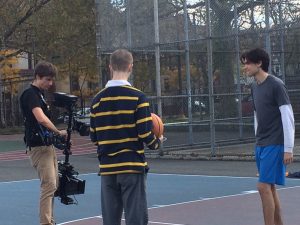 For the final scene of the movie, the crew rented the basement of an old Brooklyn church, which they turned into a funky young person's church space. They designed a poster and fliers for their "church" (called Thrive) and set up folding chairs and an overhead projector to display songs. I got to be an extra in the scene (along with Tamara and many other friends).
It took about four hours to film my "extra" scene, which involved Miguel leading the congregation in the song "Come Thou Font" about a dozen times. I guess all his guitar lessons as a kid paid off (thanks Felipe)! In between takes I got to chat with the other extras, who were all young creative types trying to make it in the big city: Donovan, a composer originally from North Carolina, Jesus, a photographer originally from Mexico, and Evangeline, an actress from Utah, among others. Luis, another friend of Miguel's, was there too, as was his Dad, who was visiting from London, and we talked about Brexit, Trump and where we were when the Berlin Wall fell. Most of us stayed at the church until midnight that night watching the very last part of the movie where Miguel's character and the "pastor" have a heart-to-heart talk. The action seemed so real I almost forgot it was a movie.
People ask if this movie is based on Miguel's own experience—and it certainly is. I know he's thought long and hard about the church's attitude toward LGBT folks. It is one of the key issues for his generation. It's something I think about a lot too. We've had many good discussions about it and are living a sort of a parallel process of discovery/advocacy about the topic.
Miguel ends his movie not by answering any questions, but by raising questions. Most people who read the script want the story to continue. I hope he expands on it and turns it into a feature. But even if he doesn't, this is a beautiful piece and it was a beautiful process getting there. I would venture to say the process was even a bit of like meditation, a zen-like devotion to attention and detail. Living in the moment. Capturing moments on film. Then later–when the film is made—living the moment again.
I joked with Miguel during the set that I saw signs of this day way back when he was singing karaoke songs at family get-togethers. He's always had a bit of flair for performance and a skill at bringing people together. We never know where life will take us or our kids and what interests will stick. His dream now is to direct movies. I think he's off to a great start. And if any of his dedicated friends is reading this–Isabelle, Regina, Grace, Delaney and so many more–thanks for giving your time and talent.