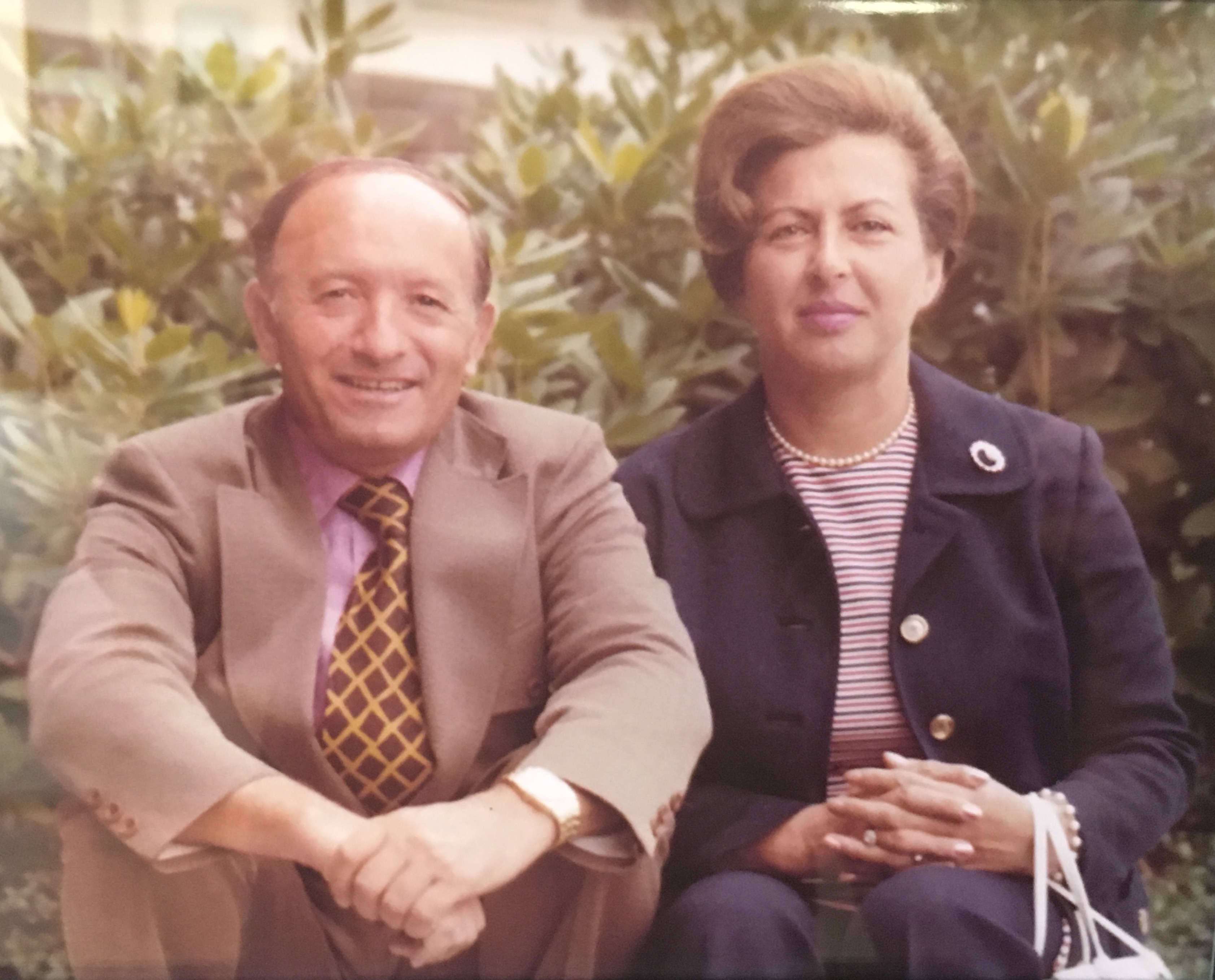 In many ways Sam Genirberg has the model American immigrant story. He came to the U.S. in 1948 with $50, earned $1.25 an hour at his first job in a warehouse and eventually started several successful businesses. He ran Moo's, a popular ice cream parlor in Richmond, and then launched a real estate business, which he still manages today.
In my last two posts I've shared Sam's incredible story of surviving as a Jewish boy in Nazi Germany. Sam endured harsh working conditions, the constant fear of being discovered and even a time in an SS prison camp. When the war ended Sam found happier times, meeting and marrying a fellow survivor and finding a new life and friends in the U.S. But Sam discovered that life isn't easy, even for a survivor.
I talked with Sam, now 94, for a few hours recently about his life. His voiced wavered as we talked about the murder of his parents and relatives by a Nazi death squad. Later in our conversation he told me about the other great sadness of his life, when his younger daughter was born with Spina Bifida.
"My first daughter was born in Germany in a displaced persons camp without much medical help. She's a fine lady, one of the best people I know. She's 71. The second daughter was born in the United States with all the checkups and medical attention and she was born with Spina Bifada. I wouldn't wish that on anyone. The doctor told us she wouldn't live more than three weeks. We just observed her 67th birthday. But she has had such a difficult life. Whenever I see her it breaks my heart," Sam said.
Spina Bifida is a birth defect that affects the spine and spinal cord. Eve, Sam's daughter, has never been able to walk.
"When I look back on my life I was successful in every endeavor I undertook since the age of 16," Sam said. "This was my major downfall, having a severely handicapped person in my family. I love her deeply, she's a beautiful girl—has a beautiful face, she has the face of my wife."
Sam said he's often wondered why his daughter was afflicted with this handicap, but never found answers.
"After she was born I had a long dispute with God…we were three years in the country, trying to rebuild our lives, and this thing happened. …I didn't get any answers. We learned to live with it. Those are the things that happen in life. You feel helpless, they are beyond human control. You have to make peace with it, live with it and go on," he said.
These days Sam sees his three children, who all live in the Bay Area, regularly, but maybe not enough, he admits with a smile. He's a member of a local synagogue, mostly for the social life. He misses his wife, Rose, to whom he was married 67 years, and falls silent when I ask about her. Later I learn that they used to play golf together and go to the opera and symphony.
After Rose passed away, Sam hired a housekeeper to help around the house. She's from Russia but they don't speak Russian. After all these years Sam doesn't remember much Russian. He once spoke it, living as a Soviet citizen of the Ukraine. He also spoke fluent Polish, Ukrainian, German and Yiddish, but "we left all those languages behind" when we came here, he said. "The focus was on assimilation."
The Russian Jews he lived with in his first years in America wanted to blend in with the greater culture.
"We referred to each other newcomers, not survivors," Sam said.
Still, the tight-knight community in Petaluma didn't deny their past. They often shared their survival stories with one another around games of penny poker.
In those days, Sam said, there was less technology and more personal connections. When he decided to start his real estate business in the East Bay, he was able to talk easily to the president of the community bank about getting a loan. These days there would be much more bureaucracy, he said. He added with a smile that it probably helped that the bank president's wife knew Rose from buying ice cream at their store.
As our conversation came to a close I wondered how Sam felt about the current state of the world.
"Are you optimistic or pessimistic about our world today?" I asked him.
"I'm neither. Human beings are a violent species. They have been violent for the last million years, as long as they have existed, they were violent and killing each other. They'll continue to kill each other. Animals kill to eat. Human beings kill each other for power and money. It continues and will continue," he said.
"Is there anything we can do to change it?" I asked.
"No, [we're] not gonna change it. The situation in Israel will last the next 100 years or more. There's no solution to it. All we can do is take care of our family and friends and live one day at a time and do the best we can and be grateful for the day. That's the way I live," he said.
Sam further explained that above all he's a realist. Most people solve problems "philosophically," but he chooses the realistic solutions.
At the end of Sam's book about his life, he voices some regrets that the Jews in his hometown didn't do more to stand up to the Nazis. There was no organized resistance. Instead, he writes, the two Jewish printing presses in town could have printed Aryan identity cards for daring Jews who wanted to escape and blend into the German population like he did.
He writes that there are important lessons we can learn from World War II. The birth of Israel has made the lives of his children different from any previous generation of Jews. For the first time in 2,000 years Jews have a spirit of "self-assertion and independence" that has affected how they "see themselves and live their lives around the world," he said.
Sam and Rose traveled to Israel many times over the years. Their first trip was in 1967. When their plane reached New York the Six-Day War broke out and they had to spend a week in Canada until planes were allowed to travel to Tel Aviv again. When they arrived, Israel had won the war and the mood was jubilant. He and Rose went back to Israel several times to vacation at various resorts and see relatives.
"I had a good life I can't complain. I tell my children if I die, don't mourn me. Celebrate my life. It was a tragic life…there was tragedy, but courage and bravery and confidence," he said.