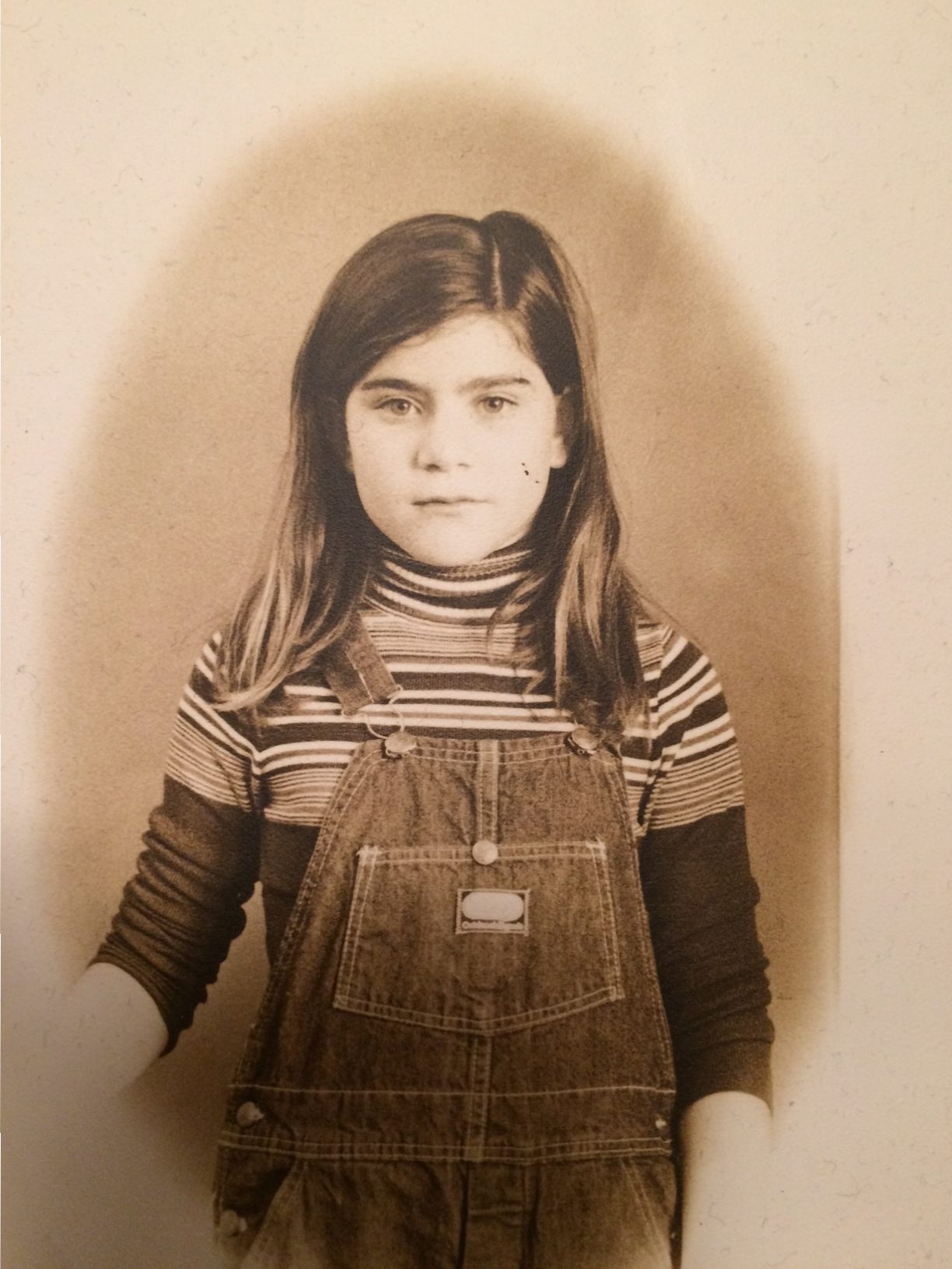 When I was a child, the month of December seemed to pass so slowly. I would count the days until Christmas and it seemed to take forever. I couldn't wait until Christmas morning when my brother and I would get up early, rush to the Christmas tree and tear open the presents. What special gifts would be waiting there? In the picture above I am wearing overalls I got for Christmas when I was 10. I really wanted those overalls. I was serious about the overalls. I wore them every day for two weeks straight, right into January. It's like that with kids and their favorite gifts.
These days the Christmas season rushes by. Thanksgiving is over and suddenly it's Christmas season. Time to buy a tree. Time to decorate the house. Time to buy gifts. As an adult, there doesn't seem to be time to fit in all the errands, shopping and preparations. In the background linger all the voices that tell you what you should be doing. Maybe this is the year you should write your Christmas letter early (if at all) or this is the year you should put up those Christmas lights languishing in the basement. So many shoulds can take the joy right out of the holiday. It's a challenge to quiet the shoulds and live in the present moment.
That Christmas when I was 10 I had my first "boyfriend." He was a cute strawberry blonde with freckles. A few weeks before Christmas break he gave my best friend a little folded up piece of paper for me. It said, "Will you go steady? Mike" Only a few of the cool kids were going steady so I was flattered. I wrote "yes" below the question and sent it back to him. I hardly knew him and we didn't talk after our note exchange. Then Christmas break came and I forgot about him until one day he arrived at my door with a gift. I was so embarrassed when my mother told me there was a boy to see me that I refused to come to the door. He left the gift with my mother. I later opened the gift and it was a set of Snoopy stationery. I loved it and kept it for many years, unused in a drawer. After Christmas break I returned to school and saw Mike again. I don't remember whether I thanked him for the gift, but I must have, considering I was always taught to thank people. One day a few weeks later it was rainy and we had to stay inside for lunch. The kids were restless. Pretty soon some of the kids decided to play truth or dare. To my horror, they dared Mike to kiss me. Not only did I not want to kiss Mike, I hated being the center of attention. Instinctively I ran under a table and hid. Everyone laughed. That was the end of our going steady.
With the small boyfriend drama behind me I could turn to my interests at the time, which included dressing up my miniature Schnauzer in old baby clothes and playing superballs with my friend Kim. I still have the album of photos I made of my dog in various outfits. I don't have the shoebox of brightly colored superballs, but I trust some other kid somewhere is having fun with those. Kids generally have such simple interests and I take that as a lesson today. Yes, I do have adult responsibilities, but I can still savor simple things. In fact, in light of my responsibilities and the shoulds, I need to savor simple things. Simple things today can mean adding a little egg nog to my morning coffee or writing a little extra in my journal. At the top of my Christmas list is a "frother," so I can froth milk to make foam for my coffee. Next is a new leather moleskin journal and some nice pencils. Simple pleasures to enjoy the moment.
Of course, what I really want for Christmas these days will not come as a present under the tree. It's what most of us want—a happy family, good health, fulfilling projects—and perhaps a dash of adventure. One of my most memorable recent Christmases contained almost all of that in a comical way. All four of us, my husband and two sons, had driven out to Salt Lake City, Utah a few days after Christmas to celebrate the holidays with my brother and his family. We had a great time sitting around talking, watching movies and sledding on a nearby hill. The snow-covered Utah mountains were beautiful and a nice change of scenery from the Bay Area. For reasons I don't remember, we left on New Year's Eve to make the l2-hour drive back to Berkeley. We passed through the frozen Salt Flats and then crossed the desolate Utah/Nevada border where you can drive 50 to 100 miles without seeing a town. Just after speeding by Winnemucca, Nevada, the halfway point of our trip, our car began to making sputtering noises and losing power. Panicked, we pulled off to the side of the road and called AAA. Fortunately we were just miles outside of Winnemucca and a driver came fairly quickly. We were towed back to town and found out that our car's timing belt had broken. The bad news was that, since this was a holiday, they wouldn't be able to get the part for our car until January 2. We were effectively stuck in Winnemucca for three days! A little dejected, we checked into the Winnemucca Hotel, which boasted its own small casino and restaurant. We drove our loaner car around the town (which took about 2 minutes) and cheered a little when we saw there was actually a movie theater (playing the Muppet Movie) and a Basque restaurant. Maybe this wouldn't be so bad after all. As it turned out, we spent a very happy couple of days in Winnemucca. Besides our outing to the movie theater and Basque restaurant, we sat in our little hotel room watching bad TV shows, writing thank you notes on Winnemucca postcards and reading and rereading "Of Mice and Men," which my son had in his backpack. It seemed that time had stopped.
I don't know exactly what Christmas will bring this year but as long as I have loved ones near I expect it will be good. I just hope time will slow down enough to enjoy all the right moments.
PostScript: Last summer we stayed at the Winnemucca Hotel for a night on our way to a family reunion in Colorado. We reminisced about being stuck there a few years back. There was no time for a movie or a Basque meal but I have a feeling we'll be back again.