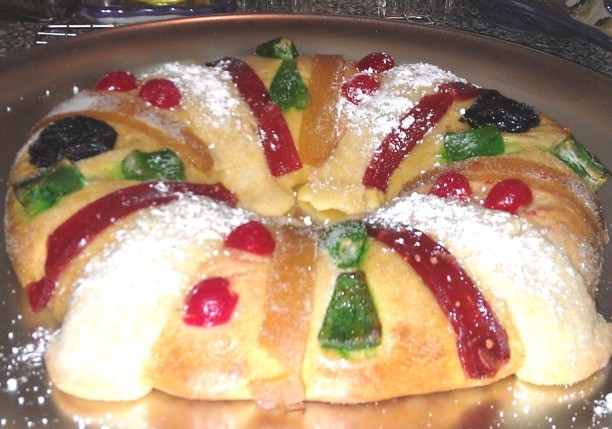 "Welcome. Bienvenida. Come in and have some rosca," said my friend Stephanie.
I stepped into Stephanie's tidy El Cerrito house and followed her into her kitchen, where we could sit at her table and enjoy a view of the bay.
"What's a rosca?" I asked.
Stephanie grew up in Colombia. She explained that a rosca is the traditional oval-shaped pastry that Latin Americans eat on Three Kings' Day. It is supposed to symbolize a crown, like those worn by the kings who visited Jesus twelve days after his birth. Candied fruits represent the jewels.
I bit into the sugary rosca. "Muy rica!" I said.
In Mexico, and much of the rest of the Hispanic world, Three Kings' Day, January 6, also known as Epiphany, is the day when children open presents, not Christmas day. This makes perfect sense. This is the day when Jesus received presents from the kings.
I had gotten to know Stephanie because her daughter was classmates with my son at his Catholic elementary school. Her daughter came to the school in fourth grade, the year I was a room parent. I helped organize a back-to-school reception and met Stephanie and her husband Hugo at the event. I was immediately drawn to Stephanie and enjoyed practicing a little Spanish with her. We went for a few walks and had coffee together. As it turned out, Stephanie was very intentional in her Catholic faith, unlike many of the parents at the school, and she observed Saint's Days and other holidays. I remember once that we talked about the new Cathedral of Light in Oakland and she was so excited. We decided to go together for a tour, but somehow never did.
A couple of years after meeting Stephanie, and sometime after our rosca together, she started having pain in her leg. Stephanie went to the doctor and learned she had a hole in her knee. She had cancer, non-Hogdkins Lymphona in the bone. She immediately started chemo and her mother came from Mexico for several months to help. My son's class parents organized us to deliver meals. I visited Stephanie a few times during her treatment and she was amazingly positive and always smiling. Instead of complaining about how she couldn't walk or had lost her hair, she would ask me if I liked her newest hat or she'd want to know how I was doing. And she was so touched by the outpouring of support. I can't remember how long Stephanie's recovery lasted, but at the end of it her bone had healed and she was cancer-free.
**
Just like Mexico, Spain celebrates Three Kings' Day with presents and roscas. The year we lived in Spain we happened to be visiting Gibraltar on Three Kings' Day. Gibraltar is one of the strangest places I've ever been. It's a strip of rocky land off the coast of Spain owned by the British. The one small town on the rock looks like an English village with narrow streets, traditional architecture and pubs serving fish and chips. Besides eating at a pub tourists are told they must take a tour of the caves. A driver takes you up to the caves, where you can see beautiful stalagmites and stalactites. Next, you can tour long tunnels dug into the mountain, which were once used for ammunition. If that isn't enough, you can also see many wild monkeys who roam the rock. They aren't shy. Several crawled on top of our vehicle or blocked our path, hoping for a free snack.
After our obligatory tour of the rock, we lingered in the town plaza and were amazed to find a large parade forming. The locals were celebrating Three Kings' Day with floats of dancers, musicians, kings and camels. I felt like I was at the Rose Parade. Apparently, these Three Kings' parades are common all over Spain. The participants even throw candy out to all the children.
To this day, I still receive messages from my Spanish friends on January 6th saying "Feliz Dia de Los Reyes" (Happy Kings' Day) and they make me smile. We could always use more excuses to celebrate. I think this is something Catholics do especially well. I learned this year that, in fact, Kings' Day doesn't have to end on January 6th. Roscas are traditionally eaten all the way to Mardi Gras, the start of Lent. They are indeed a variation of the colorful purple, green and yellow King Cakes that are popular in New Orleans. One article I read said that some groups of people have a King party ever week until Mardi Gras. That's one long party! In some traditions, a plastic baby (symbolizing Jesus) is hidden inside the cake. The person who finds the baby is in charge of either buying the next cake or specifically of hosting a party on February 2nd to celebrate the day Jesus was presented in the temple. Ironically, we hosted a Mardi Gras party on a whim a few years ago, complete with a King Cake, but I didn't understand the traditions.
Usually I feel a bit of a letdown after Christmas and New Year's. The excitement of the holidays has passed and there is not a lot to break up the cold, dark days of winter. This year, though, I may look at things differently. Perhaps I'll have a Kings' party or two and really celebrate Mardi Gras with zest. I may even get in touch with Stephanie and make a date to tour the Cathedral of Light. It's a good time of year to celebrate life.