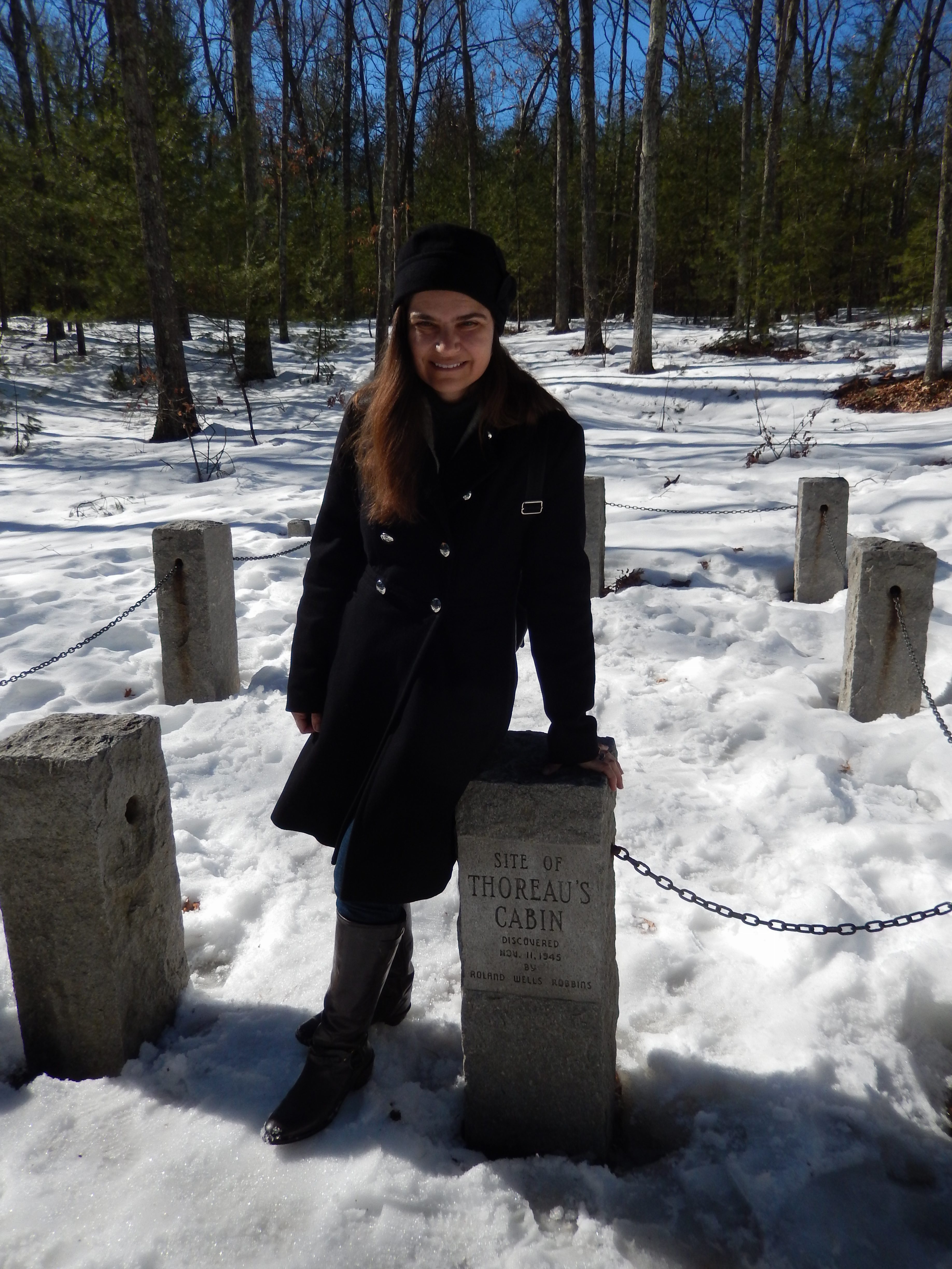 "Sometimes the truth depends on a walk around the lake" – Wallace Stevens
Several years ago I was staying with a friend in Boston and he suggested we visit Walden Pond. He had always wanted to go and, knowing I was a writer, thought I might enjoy seeing the place where Henry David Thoreau wrote his famous treatise on living a life of simplicity in the woods.
It was early April and the ground was slushy with snow when we visited Walden Pond. It took us at least an hour to slosh our way around the "pond," which is really more like a small lake. We paused midway through to look in awe at the posts indicating the spot where Thoreau had built his 10-by-15-foot cabin (it no longer stands). Thoreau lived here for two years in 1845 and 1846 while he experimented with meditation, solitude and nature observation.
I had mostly forgotten about the trip to Walden Pond until I saw my friend recently. As it turns out, he enjoyed the excursion so much that he continues to visit the pond frequently. Something about the place has touched his spirit. For a few hours he can set aside his life as a busy doctor and soak in the beauty, quiet and stillness that Walden Pond offers.
I think of this today as I'm preparing to see several people in my new role as a spiritual director intern. For the next nine months I've been assigned to meet with four people and listen to their stories. I will help them identify their Walden Ponds, those places in their life that bring them solace or connect them to something greater than themselves. I'll also listen to their wonderings, questions, and most likely, pain. As a spiritual director, I am not a counselor who will fix their problems. I am there to accompany them along whatever journey they are on, believing that the Holy Spirit is guiding our conversation. Most people will come wanting to deepen their relationship with God. Other people may be exploring God or their spiritual life for the first time.
I first experienced spiritual direction myself 20 years ago, when my pastor led a group of us through the spiritual exercises of Saint Ignatius. I saw my pastor monthly for a year and we simply talked about life and how I was experiencing God. This was a revelation. Although I had been a Christian since childhood I had never talked with anyone about God in such a direct way. It's one thing to believe that God spoke to people in the Bible or maybe that he hears my prayers. But it's another thing to believe that he is speaking to me today in even small things like sunsets or synchronicities—and to give voice to that experience with another human being.
Spiritual direction is countercultural. Our culture thrives on information, entertainment and noise. In spiritual direction we light a candle, invite God's presence and take an hour to slow down and just be. The spiritual director may ask a few questions, such as: "What was life like for you today?" or "Can you describe the time today you felt most free—or least free?" Mostly though, the spiritual director listens and helps the directee go deeper into their story. The director may notice that the directee has strong emotions around a certain topic and ask the directee to say more about that. Or the director may point out certain rich words the directee uses and highlight those as significant signposts, worthy of attention. Other times, the director may suggest a few minutes of silence in the conversation. This is the ultimate countercultural gesture and for those new to direction, it may be uncomfortable at first.
It surprises people to learn that a spiritual director is not highly directive. The title of director is a little misleading. As one of our books described, the director is more of a companion or midwife. The directee is the one birthing new ideas and thoughts and the director simply helps them attend to those. The Holy Spirit is the real director. To be sure, there are models of spiritual direction in which the director is more directive, for example in the model used by orthodox priests. The model I've been trained in, however, positions the director much more in the place of fellow traveler.
My journey in training to be a spiritual director has taken its own twists and turns. When I started my program a year ago I envisioned the training to be mostly a head exercise. I assumed I'd be learning facts and techniques. I was only partially right. We have learned some of these things, down to some "technical" concepts like transference, whereby a directee might transfer feelings they had toward some person in their past to the current director, because the Director reminds them of that person. Or there is counter-transference whereby the director transfers feelings they had for a past person toward the directee. It is good to be aware of these dynamics and other nuts and bolts issues. However, where I've really been impacted is during our "practice" sessions of spiritual direction itself.
Each time we meet for training we take up roles as either director or directee, with a trained facilitator observing us. These are real sessions when we bring our real anxieties, experiences and joys to light. In these sessions as a directee I've talked about everything from the desire I'm feeling to spend more time writing to the sadness I'm feeling over a strained relationship. Most of the time I've felt a great lightness after these times of sharing and I feel buoyed even days afterwards. Sometimes I've felt a great heaviness as I talk over a difficult topic and I realize I need to give that issue more attention. I believe this is the work of the Holy Spirit in spiritual direction. The director usually has not directed me in any specific way; it is the Holy Spirit leading me. When I've taken on the role of director, I've sometimes been nervous. But I relax as I take in the directee's honestness and vulnerability and I do my best to pay attention and listen well.
There are twelve of us in the spiritual direction training program and each person brings their own unique personality and strengths to their role as director. We are a diverse group of different ages, genders, interests and faith experiences and it gives me some relief to know we don't have to fit a certain mold. In my case, I see a lot of overlap between writing/creative work and spiritual direction. A few months ago I took a class on how to interview people. The teacher told us to look for the "gold tape," or that part of the interview that has the most energy, and "cut" for that. In spiritual direction we are also taught to "pan for gold," to identify those places in the conversation that glimmer and go deeper in those areas. Those nuggets will often be things that the directee wants to savor—or they may be things for which the directee feels some resistance. Both of these experiences, savoring and resisting, are things we don't generally take time to note in a "normal" conversation. We often rush through our everyday conversations in a great hurry without much contemplation.
When I visited Walden Pond I was surprised to learn that Thoreau wasn't in complete isolation in his cabin for two years. He often entertained visitors and walked into town every day or two. If even Thoreau needed companions on his journey, then we all must need it! There is something powerful about verbalizing thought that gives it more weight. And then too, we often discover our true feelings only through sharing our thoughts with an attentive listener. In this way, spiritual direction is a gift I've been given and it's a gift I want to give others. As Thoreau said, "The greatest compliment that was ever paid me was when one asked me what I thought, and attended to my answer."