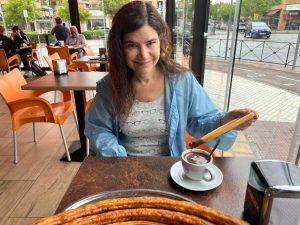 I had great hopes for keeping up my blog while on my trip. Somehow, though, our hosts and friends kept us busy and the 10:30 pm dinners didn't leave time for writing at the end of the day! Instead of trying to recall details, which are already becoming fuzzy in my mind, I thought I'd give a few memorable snapshots of our time.
Snapshot 1: After a few days in Madrid, we pack our bags for Fuerteventura, one of the islands that make up the Canary Islands. The islands are off the coast of Africa and a two-and-a-half hour plane ride away from Madrid. We have been told by Sebastian and Monica to rent a car, but not make hotel arrangements. I assumed we'd be staying at their house there. As we leave they tell us to go to the Costa Calma Palace hotel. We don't know what to expect. Sebastian tells us that it will be very dark on our drive there from the airport. Just take your time, he says. Look at the stars. Fuerteventura is an ideal place to see the stars, with little light pollution. We land and rent our car and find a very large luxury hotel. We are shown to three very nice rooms, each with a bucket of ice and champagne bottle and a basket of fruit. We all have ocean views. Amazing! We assume that Monica knows the owners of this hotel and has made a trade of some sort to acquire these rooms for us. As it turns out, the next day she tells me she is the owner! We are given the deluxe package, which includes three meals a day. The breakfast buffet alone is impressive. I've never seen a buffet so large. We decide we don't need to see anything more than this on the island!
Snapshot 2: Miguel's girlfriend, Naava, arrives on our second day in Fuerteventura. She also can't believe our plush accommodations. I met Naava once over Christmas last year, but it was brief. It will be nice to get to know her better on this trip. As soon as we've had our massive breakfast buffet, Monica and Sebastian meet us at the hotel and tell us to follow them. We are going to see a pretty beach. Indeed, the beach is nice, with white sand and relatively few people. The water is warm enough to swim in and refreshing—unlike the Pacific. Now, though, we are going to see a second beach. To get to this beach we have to drive over a rough, unpaved road. When we get back, Miguel notices that the air in one of the tires is low. We decide something has punctured it and it has a slow leak. Oh no! Had I bought the right insurance? What if they charge us for a new tire? We spend the rest of the trip constantly filling the tire with air and I tell the rental car people about the problem when we drop it off. "No pasa nada," they say, "we will check it." Phew!
Snapshot 3: We ate lots of good food in Fuerteventura. One unique thing they have is a tray of three dipping sauces they always bring out with the bread before the meal. There's a red tomato-based sauce, a white garlic sauce and a green cilantro-based sauce. We all agree the green sauce is the best. We eat a lot of fish there, typically a whole fish that is fried, with the head still on.
Snapshot 4: When Miguel, Naava and I leave Spain, Thomas plans to walk the Camino, an ancient pilgrimage route across Northwest Spain. He has packed very lightly for this trip, knowing he will have to carry everything on the Camino, doing 10 to 15 miles a day. He's had long hair for the past several years but decides to cut it in case it's hot on the Camino. It's a significant day when he goes to the salon and cuts his curly locks. He looks great though and feels a lot lighter.
Snapshot 5: Thomas still needs a few more items for the Camino so he and I go shopping in Madrid. We mostly strike out. We go to the big sports store, Decathlon, but they are sold out of waterproof covers for backpacks. (Thomas later gets one from the "chino"—the Chinese bazaar that sells odds and ends.) We also go to the church where supposedly they hand out the official Camino cards, which are like passports you get stamped at each stop along the route. (He can get one later.) Then we go to Desigual, my favorite clothing store, known for their bright colors and modern designs. Thomas finds a great sweater for me and I find a nice shirt I'll give to Peter for taking care of Romeo. As it gets later in Madrid, the streets fill up. Everyone is out taking a paseo or dining. It looks like Covid never existed. We end our outing with some tapas, including croquettas and patatas with aioli.
Snapshot 6: Time for a cafecito? It seems it's always time for a coffee with Sebastian. He is a gracious host and has bought a jamon leg for us and stocked the fridge with yogurt, snacks and fruit. He has also picked us up and driven us to the airport. I really hope I can get the painting we left at SFO back and shipped to him. In the meantime, upon learning that Naava and Miguel are painters, he has purchased two canvases and oil paints for them. They spend their last day in Madrid painting the ocean. Naava paints from a photo of Fuerteventura and Miguel paints from a photo of a California beach. The paintings turn out beautifully.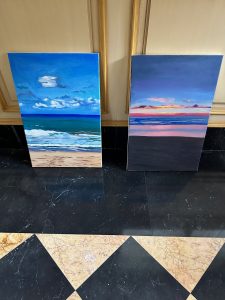 Snapshot 7: We enjoy a typical Spanish dinner of tortilla and gazpacho soup with our home exchange family in their new house. They spend much of the night reminiscing about their time in Berkeley and their fond memories of our neighborhood and school. We laugh a lot and switch between Spanish and English. We enjoy other similar reunions with Paloma and her children and Angeles and her boys. Angeles kindly lends Thomas a hiking stick and sleeping bag for his Camino hike.
Snapshot 8: On my last day in Madrid, Sebastian has decided we will make chili. I served him chili when he and Monica came to dinner in California and he loved it. So we head to El Corte Ingles and buy the ingredients…all except for the chili powder, which they don't carry in Spain. The closest we can get is Mexican tajin spice, which has chili powder in it, along with lime and salt. In the end, we make a pretty good chili. Monica doesn't want any though. She's afraid it will be too spicy. Spanish food isn't very spicy. Also on my last day, I finally get to have churros y chocolate! Thanks Sebastian for taking me to your favorite spot.
There is so much of Spain still to see; I look forward to going back and seeing more of the Canary Islands. In addition to Fuerteventura there are seven other Canary Islands, each with its own feel, just like Hawaii. Fuerteventura is dry and arid. They get their water from a desalinization plant. Some of the other islands, like Gran Canaria have sections that are green and lush. Hasta la proxima España! See you next time.