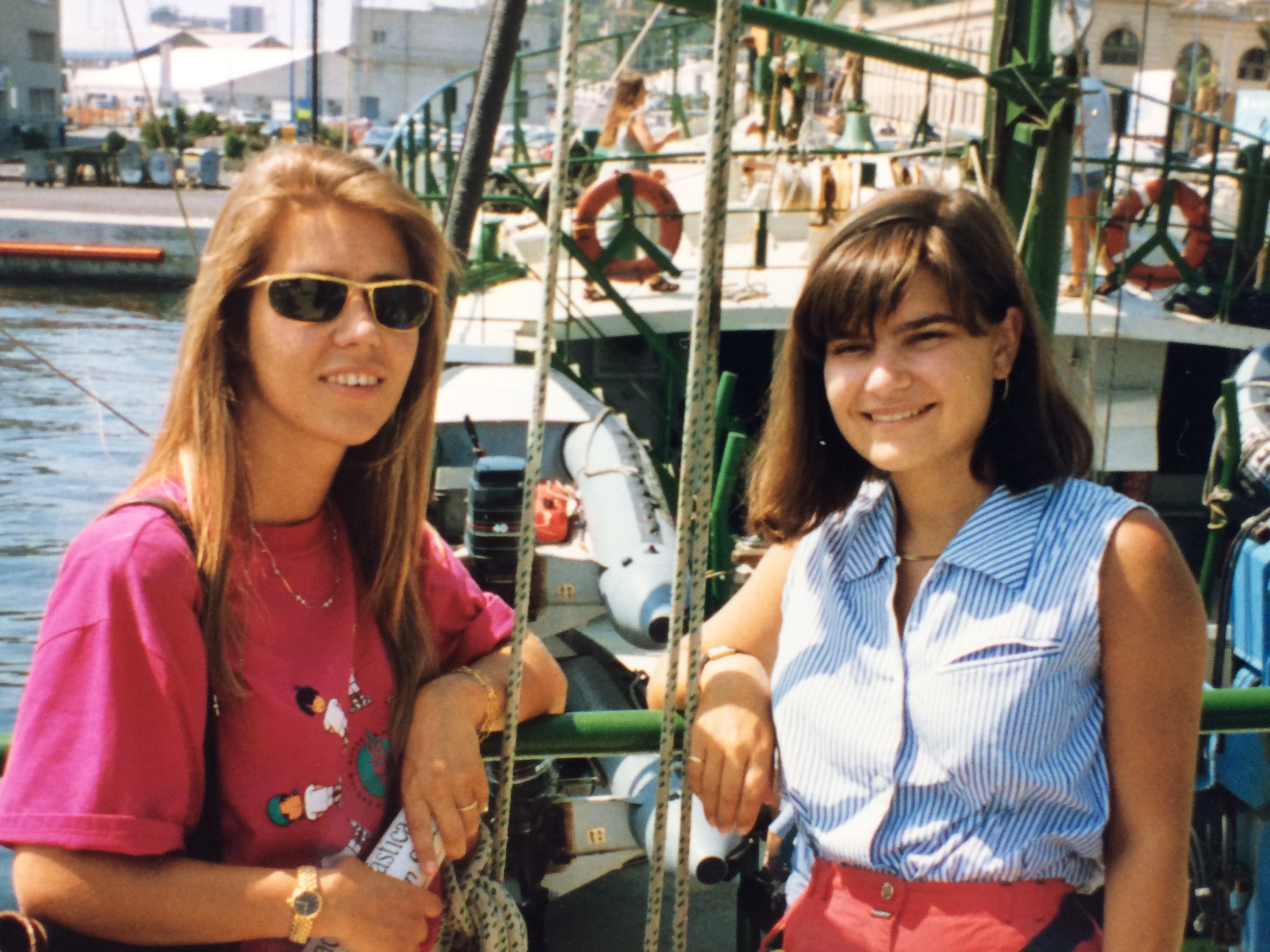 It was with a heavy heart that I learned this week of the terrorist attack in Barcelona. I have spent some of my happiest moments in Barcelona and feel a special affinity with the city. It's a beautiful place and it's frightening to think a horrible act of hate could take place even there.
In 1993 my husband and I spent five months living as students in Barcelona. A year earlier the city had hosted the summer Olympics and was standing tall, with a shiny new stadium and refurbished buildings and boulevards. We spent a lot of time on La Rambla, the street where the driver mowed down innocent people last week. La Rambla runs almost a mile from the waterfront through the city's old Gothic quarter to the elegant 19th century Eixample neighborhood. It is the perfect place to poke in and out of old alleyways, shops and cafes.
Some people say the Catalans are snobbish and reserved. They are overly proud of their culture, history and language, distinct from the rest of Spain. We found a bit of that to be true, but mostly we found very gracious, welcoming people. A week into our stay we met a Catalan university student, Esther, who needed help studying for an upcoming English exam. We made a deal with her to exchange English conversation practice for guided tours of Barcelona. For several weeks, Esther showed us the sights, either walking, or sometimes riding in her tiny black car. We walked around the new stadium on Montjuïc and took a tram up to Tibidabo, where you can take in a breathtaking view of the city and the Mediterranean Sea. The city's location next to the water and its many hills reminded me of San Francisco. I was far from home, but felt like I was in familiar surroundings.
Thankfully, Esther passed her English test. Even so, we continued meeting with her, though then we tried our best to speak in Spanish. Eventually, she invited us to her home, which she shared with her parents and three siblings. Soon, we became regular visitors. One memorable night Esther's father, a gregarious man who worked as the principal of a nearby school, made us a delicious paella meal, preparing the dish on an outside grill in his back patio. After the meal, he asked, "Os gustaría una copa?" (Would you like a copa?) We had no idea what a copa was. "Claro que sí," of course, we responded. As it turned out a copa is a drink and he proceeded to ply us with one after another after-dinner sipping liqueur, served in small shot glasses. It's a good thing Esther drove us back home.
Back in our own apartment, we were treated just as well. We lived with a single woman, MaríVi, and her 19-year-old son, Alvaro, who sported long neon red hair. Although they were out much of the time, no doubt enjoying the full social life of many Spaniards, at home they enjoyed introducing us to Spanish soccer matches on TV, making me an unforgettable birthday dinner (squids in their own ink), and an occasional game of monopoly. Whenever Peter was winning, MaríVi laughed and told him he was "engañando." It took me a while to figure out that meant cheating.
We've been back to Barcelona several times since our sojourn there so many years ago. In fact, we had hoped to live there for a year in 2010 but instead chose Madrid because Barcelona's schools teach in Catalan, not Spanish, and we didn't think our kids would want to learn Catalan. Indeed, the Catalan issue is controversial in Spain. Should such a small (geographic) area insist on speaking its own language instead of Spanish? During our short stay in Barcelona, we were forgiven for not speaking Catalan. But "if you are here more than a year, you must learn Catalan," one man told us bluntly. Esther pretty much told us the same thing. I hesitate to argue. For a place that helped form Picasso as a young artist, produced the artists Gaudí and Miró, and continues to foster innovative fashion, food, ideas and art, maybe they have the right to speak however they want.
Through the years, we've kept in touch with our friends in Barcelona. Esther has taken her father's place as principal of the school, has twins who attend the school, and lives in a beach town just outside of Barcelona. After a busy day at work, she likes to swim in the sea. She still drives a tiny car. Our landlord MaríVi still lives in the same apartment, a 10-minute walk from La Rambla. Alvaro is now a 30-something man with short brown hair and has a wife and a young son. The day after the terrorist attack, both Esther and her husband posted on Facebook that they "were safe." I hope MaríVi and Alvaro are safe too.
Barcelona has changed a lot since we lived there. The streets are jammed with tourists in the summer time. There are more immigrants. No doubt there are growing pains. The Catalan independence movement has gotten stronger. And now, terrorism has left its ugly mark. It seems very few places in the world, even the places that hold special meaning to us—be it Paris, Nice or Barcelona—are untouched by the complexities of the modern world. I just pray that my friends there won't lose their sense of joy and their impulse to extend kindness to strangers. I have a lot of confidence in the spirit and hope of Barcelonans to overcome. It seems that a city that once endured the repression of a fascist regime has incredible strength.
When we were preparing to leave Barcelona after our semester in 1993, Esther told us we must drink from the famous Canaletes fountain at the top of La Rambla. That would ensure we would return. She drove us in her little black car right to the fountain. It seemed to have worked, as we did return several times. And I do hope to return again, someday soon.