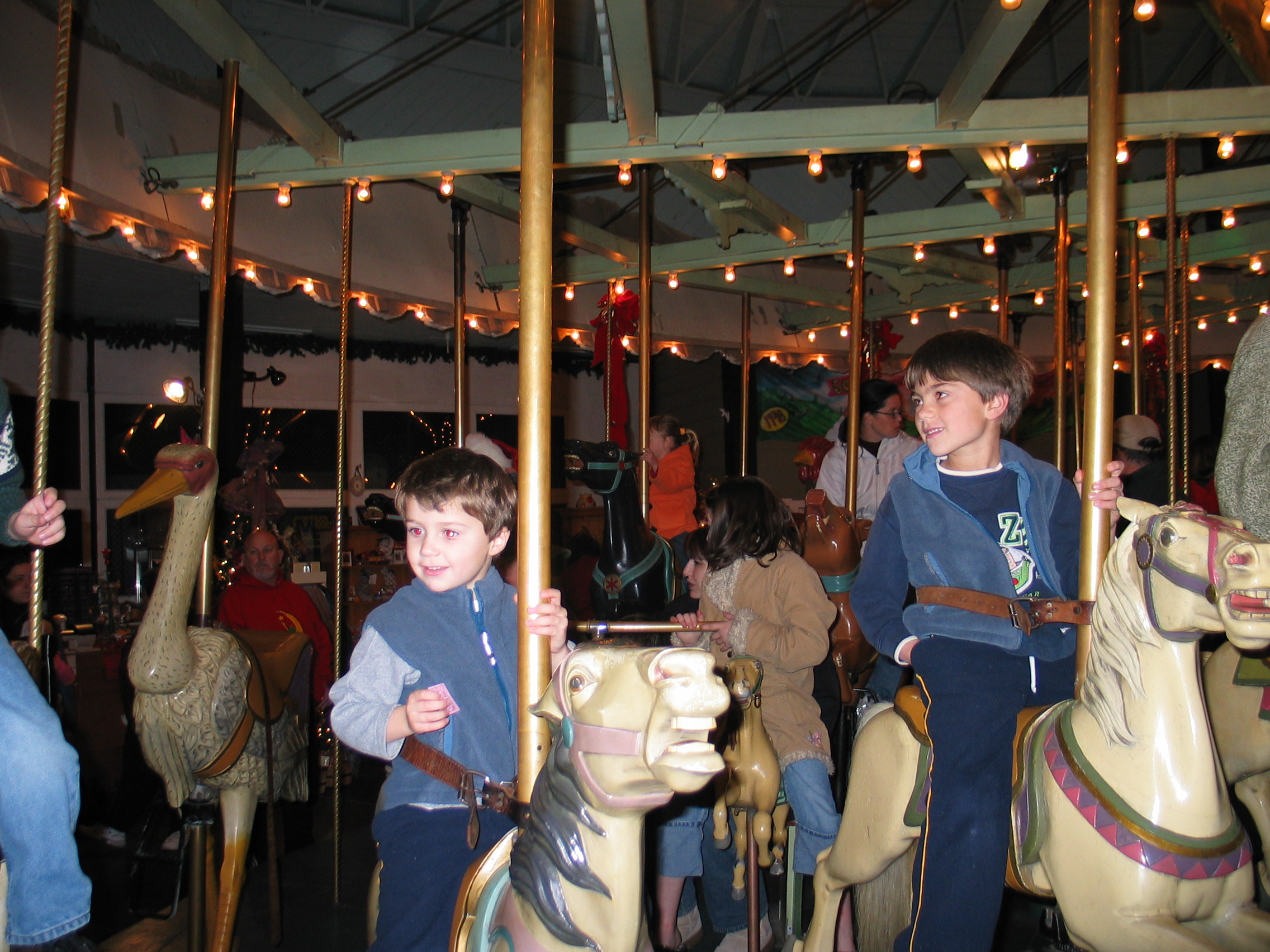 I am a mother on the cusp of change. My youngest son will leave for college next year. And this holiday season the familiar signs of Christmas—the sparkling lights, the ornaments on the tree and the special sweets—reminded me that as much as life stays the same, it doesn't stand still.
This Christmas, more than most, I found myself replaying memories. I closed my eyes and it seemed that just yesterday we were taking the kids to the Tilden Park carousel. I can picture us driving to the park on a cold December night. The carousel looks like a jewel box glowing in the dark trees. There is a long line of kids waiting to visit Santa, stationed just outside in his own small hut. The smell of popcorn and hot chocolate wafts through the air. I've bundled up the kids in cozy fleece jackets. When it's their turn to ride they scramble around the carousel choosing their favorite horse. I spin around with them glimpsing other waiting children and their parents. As soon as the carousel stops the kids race back into line for another ride.
For years my kids brought energy and excitement to my holiday experience. They eagerly helped bake Christmas cookies and picked out Christmas trees. We made trips to the city to see the holiday decorations and they melted at the sight of the puppies and kittens in the Macy's windows.
"I wish we could take one home," they cried.
Christmas morning was a scene of controlled chaos as they ripped through packages and tried out noisy drumsets or played with remote control cars.
As some point along the way, Christmases became mellower. The boys no longer wanted to ride the carousel or pick out a tree. They were more interested in their secret Santa exchange at school or hanging out with friends than spending time with Mom baking cookies. I discovered I could do things more efficiently without the kids. But I missed the wonder and novelty of sharing the holiday with newcomers to the world. I knew Christmas was changing, maybe even deepening, but I didn't know in what ways.
This December I asked myself: What does Christmas mean to me now, as a mom of adult kids? Which traditions do I keep? Are there new traditions I want to embrace? How do I approach each day with wonder? How do I live beyond myself? I could become a better consumer of Christmas with my added free time. But I sensed I was called to expand my vision.
I found myself particularly heartened this year as I looked around and saw friends reaching out to people around them—not just to family but strangers. One couple I know has been housing two women from Central America as they await their trials for amnesty. Another friend became aware that a homeless encampment near his neighborhood was going to be forced to move. He helped the people there find housing and he gathered socks and toiletries. These acts spoke to me of Christmas love and charity. These are things that don't make the headlines.
In the beginning of December a woman originally from El Salvador, Barbara, visited our church to tell us about the Oakland Catholic Worker, where she works, and to share her story. When she came to the U.S., El Salvador was in the midst of civil war. Barbara recounted some of the difficulties of her life and how the Catholic Worker had helped her. Then she told us about the recent death of one of her adult daughters still in El Salvador and she became emotional. I sensed the congregation hanging on her every word. We shared her pain and entered into her world, even for a brief moment. After church, I talked with Barbara in my imperfect Spanish and thanked her for sharing. Maybe I was able to be a small encouragement to her that day.
Sometimes all we can do is offer small acts of kindness. The last few years I've been selling beautiful hand-beaded Christmas ornaments made by women in Guatemala. They spend hours making each intricate ornament and I have spent hours selling them at craft fairs. In the end, the women don't earn a huge amount of money, but I know that even a few dollars means a lot to them. And it connects us in a way that wouldn't be possible without this project. I now count these women, who live thousands of miles away, as friends.
Maybe, I think, Christmas really is all about connecting. It sounds trite, but it's true. I once was connected to little people and their simple joys and rhythms. Now those little people are big people with big dreams and plans–for college, careers and traveling the world. Their world is expanding and so is mine.
Before he came home for Christmas, my college-aged son told me a story about shopping at his corner store in Brooklyn. He spotted a woman asking other customers for money. The woman was pleading for help but everyone was ignoring her. My son didn't know what to do. Then he noticed that the woman was holding things like shampoo and toilet paper. He gave her five dollars and she thanked him. I felt proud of my son as he recounted his kindness. And I felt sad that so many people lack even basic necessities, especially at Christmas time.
What connections touched you this Christmas season? Was it with a small child, an older child, a family member or stranger? Was it just a fleeting moment or was it a longer interaction?
I think again about the carousel I used to ride with my kids. It's an apt symbol for the holiday and the way it moves us along. The moments that touch us change from year to year as our kids grow and new people flow through our lives. I'm grateful for the memories and traditions but also glad for new connections and experiences.