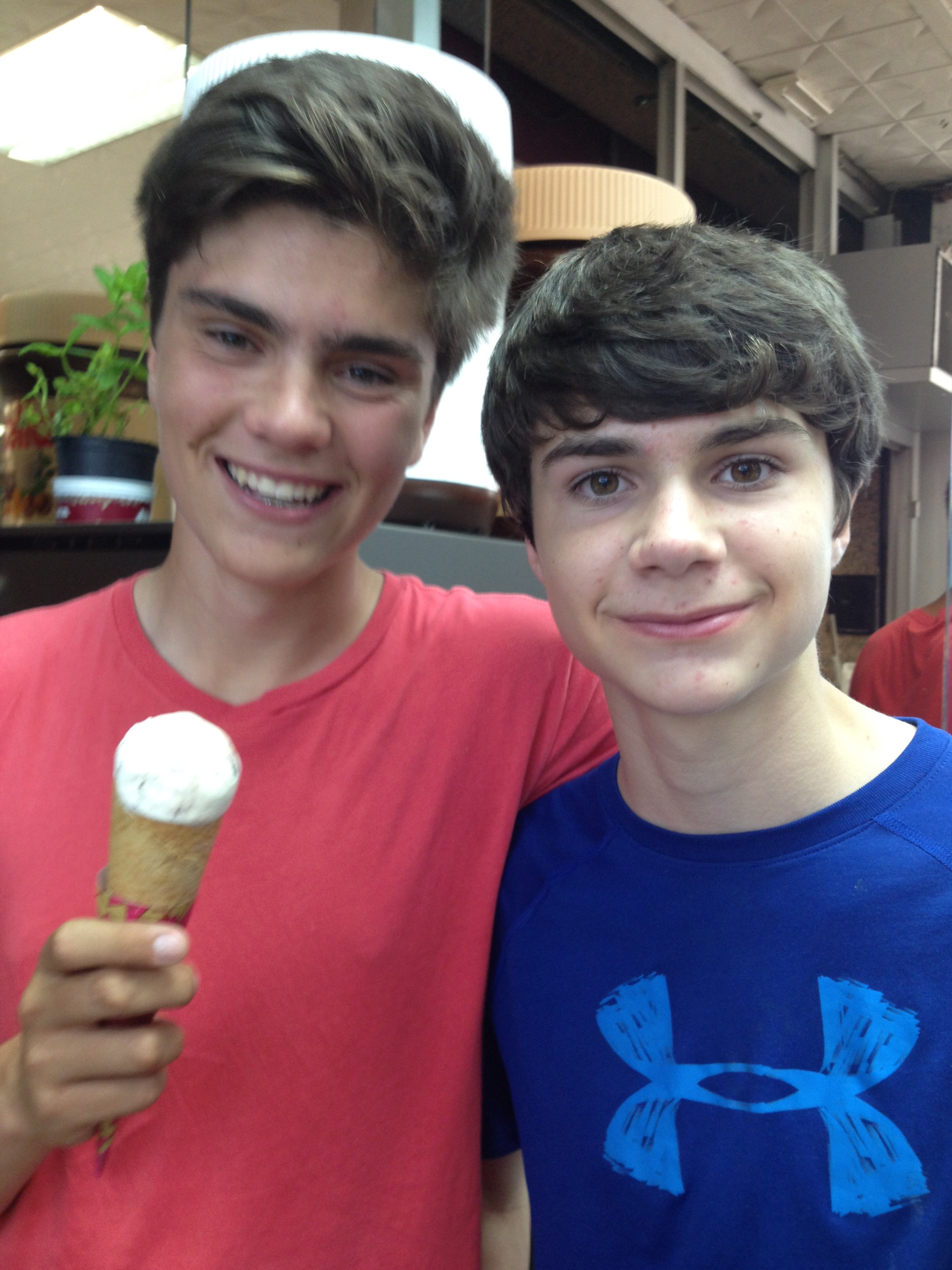 My son and I surveyed the stacks of clean clothes on his bed. Did he have everything he needed for his second year in college? And what about his guitar propped against the wall? Should he bring that along too? We bantered back and forth about packing details and I tried to imagine what it was going to be like for my son to move into his first apartment off campus this year.
Then Miguel suddenly turned to me with a bigger question. "When can TJ come visit me?," he said, referring to his 16-year-old brother. "I don't want to wait until his spring break or anything. That's too far."
This wasn't a question I was fully expecting. But I was thrilled to know that Miguel wanted to spend time with TJ. It makes sense. This past summer my boys bonded in a way they never have before. It wasn't something I planned or anticipated.
"I challenge you to a game to 21." It's one of the more frequent statements I heard this summer. Thus would start a long night of ping-pong games that would easily last until 2 or 3 am. I made sure to close my window before going to sleep so the tap tap of the balls of the balls didn't wake me up. And this would be after a day of playing online games and perfecting various grilled cheese sandwich recipes for lunch.
It wasn't always this way. Although my kids did a lot together when they were little, they developed different interests as they got older. Miguel likes cooking, exploring new places and golf. TJ is a gamer with a cohort of online friends across the country. By the time Miguel got to high school and TJ was in middle school, they rarely did activities together. It's not that they didn't get along; they just lived in separate worlds much of the time. I was sad they didn't do more together.
All of that changed this summer. In June we took a family trip to Guatemala and the last hotel we stayed at had a ping-pong table. The boys enjoyed seeing the sights –ancient Mayan pyramids and beautiful jungles–but what they really liked was the ping-pong every night at the hotel. The day after we got back from our trip, they drove over to grandma and grandpa's house, loaded up their old table in a friend's van, and set it up on our patio.
"Isn't it great we're so evenly matched," TJ said to me after a few weeks of playing.
"The only problem is that our friends can't keep up," Miguel said.
In hindsight, I now realize my boys' relationship didn't change overnight. It began to shift last year, when Miguel was away for his freshman year in New York. The boys spoke frequently on Facetime, mostly talking about the latest music and videos, which had always been Miguel's domain. Then Miguel began to take an interest in TJ's online gaming world and joined his chat forum, where he got to know TJ's friends.
For spring break TJ and I visited New York and the boys appreciated each others' special qualities.
"TJ is so funny. He made all my friends laugh," Miguel reported after TJ had spent the night in his dorm room.
The next day we were walking down Fifth Avenue and I commented that it could be fun to take a double-decker tour bus around the city.
"We don't need to do that," TJ said. "Miguel is an expert New York City guide."
Those moments made my heart swell. I relished the fact that my boys saw the positive sides of one another.
Ironically, if it had been up to me, I may have quashed my boys' bonding this summer. Early on I was worried they both had too much unstructured time and several times I suggested they both do more "productive" activities. At one point I asked them if they had any goals.
"No, I don't have any goals," said Miguel. "I just want to spend time with friends and TJ. I'll get an internship next summer."
"I agree," said TJ.
I didn't give up so easily though. I schemed with my husband about how he could hire them to do some office work at his accounting firm. This kept them busy for a week or two but then they finished the projects and it was back to hanging out at home. (Miguel did have a catering job, but it was mostly on weekends.)
Fortunately I decided to back off and their relationship deepened even more. At midnight one night between ping-pong games, Miguel invited TJ on a road trip with a friend. The plan was to leave at 6 am the next morning and drive to a national park five hours away. Uncharacteristically, TJ readily agreed, leaving his computer behind for several days. They camped, tried mountain biking for the first time and floated in inner tubes down a river. After years of planning family vacations together, I was glad to see the boys could execute a wonderful vacation by themselves.
I'm not sure where my boys' relationship will go next. They have so much to face still in life—college, relationships, careers. If they are like my brother and I, they will bond just as much or more over the low points than the high points. I'm just glad they have reached a solid point of friendship that has blossomed despite the distance and their differences. It gives me solace to know they are taking a genuine interest in one another and can support each other in the years ahead.