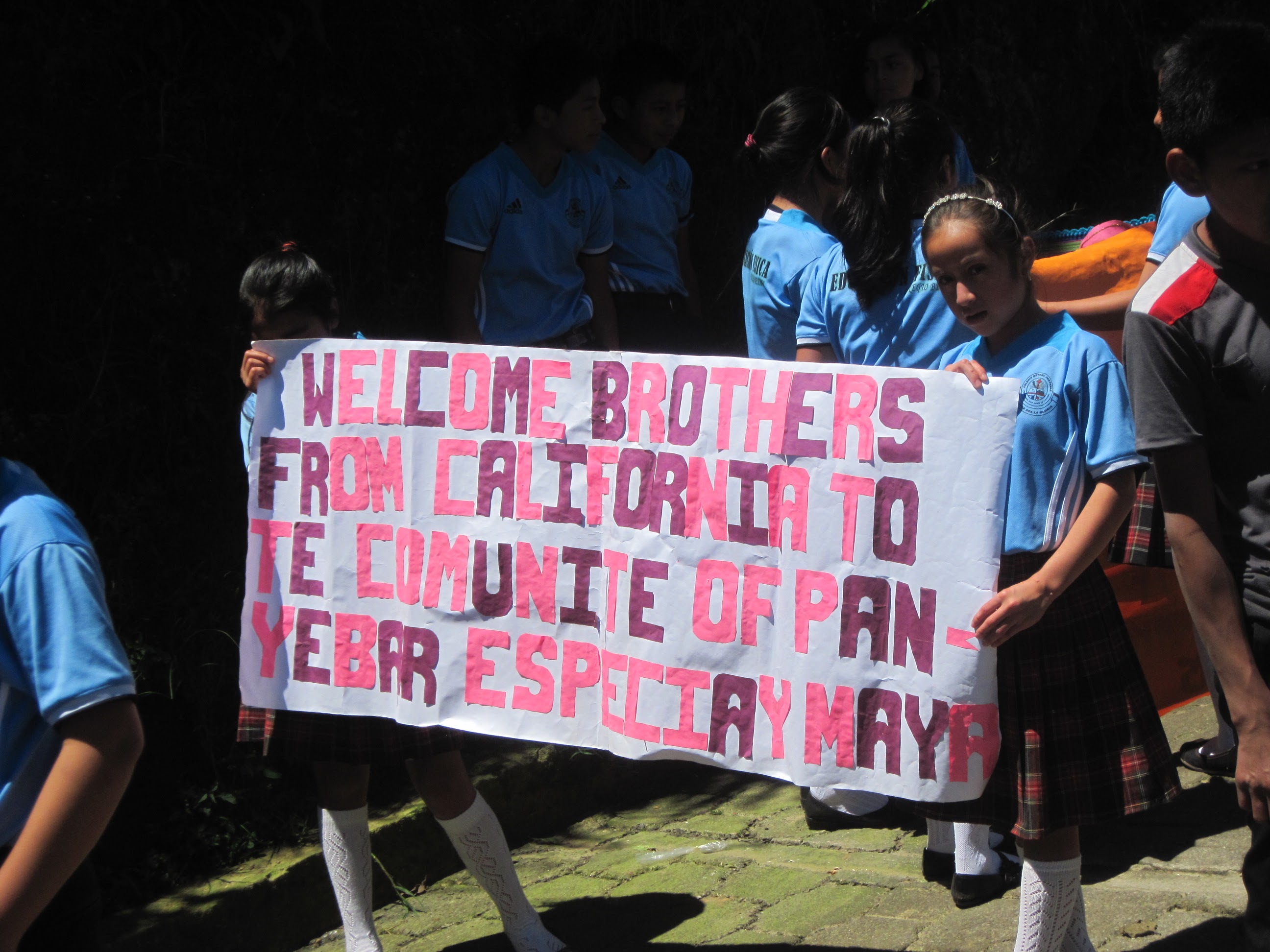 Seven days, 21 people, a small farming village in the highlands of Guatemala. It sounds like a mission trip, a service project or maybe some kind of trendy eco-tourism. As I reflect more on my recent travels to Guatemala however, the description that best fits the trip is family reunion. Although we did come with a few projects in mind, our stay in tiny Panyebar was remarkable mostly for the relationships we formed and renewed. There, among the lush fields of coffee beans and corn, we saw what can happen when you cultivate friendships over a long period of time.
Our first taste of friendship came when our two microbuses pulled up to the edge of town Monday morning. Suddenly a group of several dozen students filled the streets. Some were playing instruments and others were holding banners that read "Welcome brothers from California" in English, Spanish and Quiche, their native language. We got out of our buses and greeted the students, then marched behind them up the hill all the way to the school. There, on the school basketball court, they had planned a welcome ceremony for us complete with a traditional Guatemalan dance, a flag ceremony, songs and homemade gifts. A new charismatic young teacher, Abel, served as the master of ceremonies, narrating all the events on a portable PA system. His booming voice could be heard throughout the village.
We haven't always received such an extravagant welcome in Panyebar. The first time my family went there, in 2008, we arrived with no fanfare at all. At that point, our group's work in the village was rather new. We had just begun supporting the village's new middle school a few years before. When our buses pulled up that year, I remember getting out and seeing just a few little kids hanging around. We climbed up the stairs to the school office and I met a teacher. I tried to talk with her a bit in my basic Spanish and sensed she was reluctant to engage. Was this a personality issue or was she unsure of our intentions and hesitant to open up to me?
That year we accomplished a significant project (building a bathroom for the school) and the villagers did warm up to us, but I did not establish a strong personal connection with anyone.
Fast-forward to this year again, and the landscape looks much different. In the intervening nine years various members of our group (officially a 501(c)(3) called Mayan Partners) have traveled to Panyebar many times. One year a couple from our group lived in the village for five months. As an organization we've gotten to know the personalities, quirks and lives of the people. Most of our resources have gone to the middle school, funding the teachers' salaries. For the most part, the school has been a success. Whereas in the past very few kids went onto high school (for which students need to move to another city), now many kids go to high school and some even to college. This is significant in a place where most adults have only a second- or third-grade education.
Still, despite the improvements in education, the village lacks employment opportunities and most people make only a couple of dollars a day. A few years ago I got involved with a project to sell handmade Christmas ornaments in the U.S. as a way to help women supplement their income. For two years I worked with a woman named Flory, the daughter-in-law of a pastor in town. Then this year I added a second group made up of women who work at a preschool. One of my goals in traveling to Panyebar this year was to meet these women face to face and get to know them. I wasn't sure how this would go. Would it be like the teacher I met nine years ago who was hesitant to share? Would our conversation feel natural or forced? And what had happened to Flory? For some reason she had not returned my e-mails for the past six months.
After our lovely welcome ceremony full of singing and dancing on Monday morning, I made my way down a little dirt path, through a cornfield, to the town preschool. I was eager to meet the teachers and see the 125 ornaments they had been working on for the past several months. I had the names of the women but really didn't know much about them.
Like most of the buildings in Panyebar, the preschool is made of cinderblocks, wood slats and a sheet metal roof. It's not modern in any way, though through donations from individuals and groups like World Vision, it has a surprising number of resources, like books and chairs and tables for the 55 kids who attend. Along one wall are small toothbrushes hanging from nails. The teachers try to cultivate good hygiene, which is a challenge in a place where most people never see a dentist and lose many of their permanent teeth by the time they are adults.
When I finally stepped into the preschool, several people from our group had already arrived ahead of me. They told me that the women had been eagerly asking about me. "Where is Allison?" they said. I entered the building and was surrounded by six women, all shorter than me, wearing traditional Guatemalan blouses and skirts. I met Rosario, who I had been e-mailing, as well as Juana, Dolores, Maria, Aracely and Dominga. They greeted me with big smiles and hugs. They had been working very hard on the ornaments and were so grateful for my help in giving them work and taking an interest in their crafts. It's possible I had met some of these women nine years before, but this time, with our shared connection over their work, it was like meeting family. They seemed open, friendly and loving.
After our meeting, I announced to them that I'd brought crafts for their students. I had prepared the crafts as a measure of goodwill between us, not knowing they'd receive me so generously. Looking back, I didn't really need to prepare the crafts to create good feelings, but it did provide a way for me and others in our group to get to know the preschoolers. They are a sweet bunch of kids who, like kids everywhere, love to draw, play and learn.
That day, after the craft session, and after most of the preschoolers had left, the teachers and I sat in the tiny little kid chairs and talked. They offered me a fresh mango, cut into long strips. I told them about my family and my life in California. So much time went by that they got worried I would miss the bus back down the mountain. But that's OK, they joked, we would love for you to stay here tonight!
Then, one of the women's daughters, a teenager named Lucia, offered to carry the duffel bag of ornaments back to the school where I would be catching the bus. She treated them like a precious possession. They represented hours of dedicated work. Along the way, Lucia told me the story of how she had been ill much of the past year but now, thanks to her family's prayers, she had recovered. She promised to invite me to her house later that week.
It was a promising start to our week with the people of Panyebar. I'll write more in my next post about tracking down Flory, who had made Christmas ornaments for two years but then stopped answering my e-mails. I'll also try to distill a few other experiences from our "family reunion" in Panyebar.