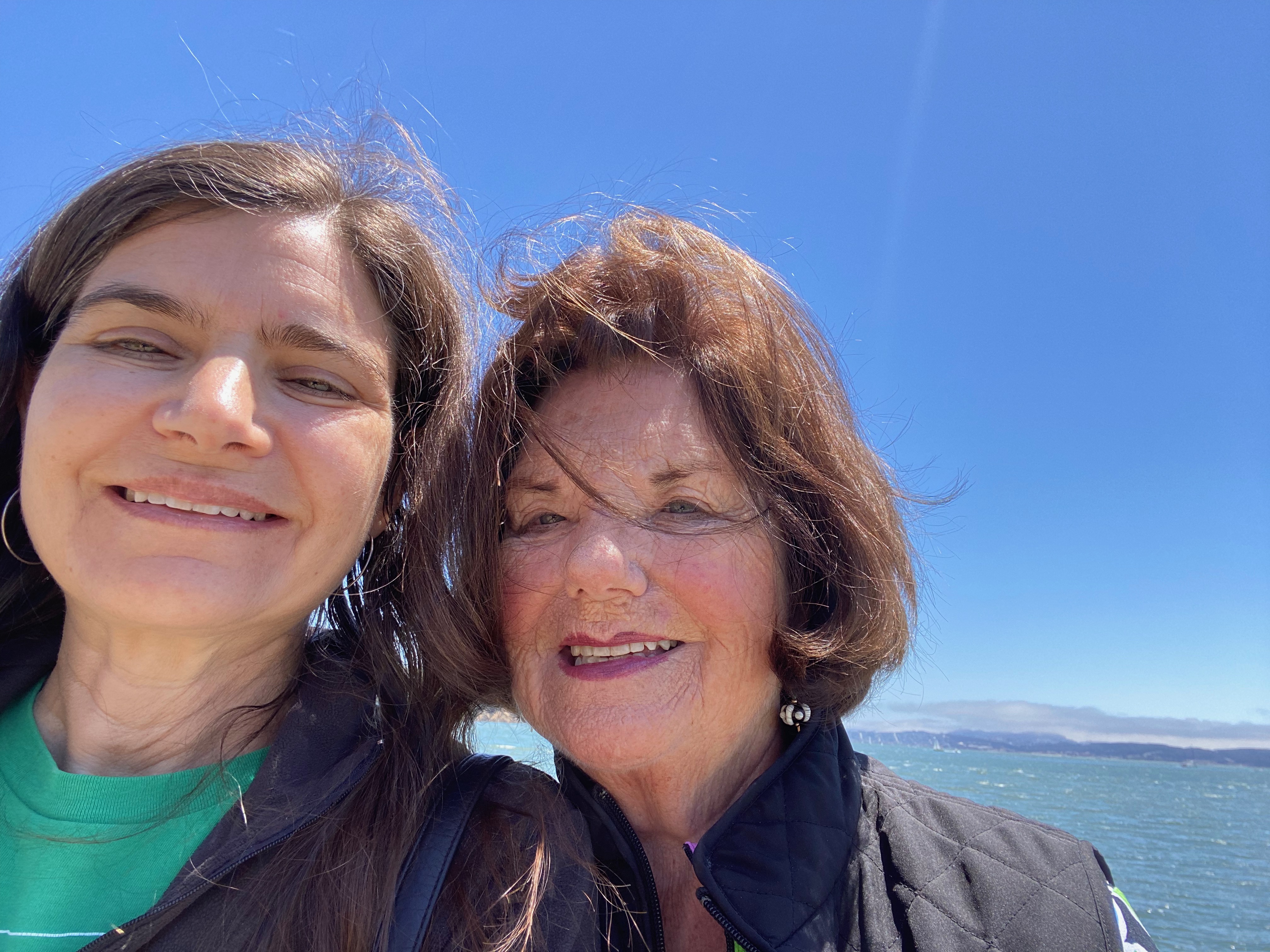 I've just spent the last 10 days in Tiburon, my hometown. Everyone else in my house was away, so I decided to get away myself and spend time with my parents. I had a wonderful time, getting to know my town again.
Our highlight each day was a walk next to the water. Tiburon is an old railroad town and after the railroad shut down in the '60s, the town tore up the tracks and put in walking paths. One path stretches from Blackie's Pasture all along Tiburon Boulevard and Richardson Bay to downtown. Another path runs along the waterfront, with spectacular views of the city and the ferry boat docks off of Main Street. Most often, we chose this waterfront path.
There's always a lot of action on the waterfront path. There are a mix of locals and tourists, with many languages being spoken. People bring dogs, picnics and fishing equipment. One day, we paused at Elephant Rock, a rock that literally looks like an elephant and is surrounded by a deck for fishing. A fisherman was struggling to reel in something big. With his pole bending to the water he reeled in a large shark, about 3 feet long. It was one of the leopard sharks that populate the local waters and for which the town is named. (Tiburon is Spanish for shark.)
Another time on the walking path we saw two young boys with fishing equipment. They were cutting up squid to use as bait. We asked what they expected to catch and they said sharks and sting rays, which they would release back to the water.
You see all ages on the path. My mom was especially impressed by the elderly people, some with walkers, tackling the path. She found it inspiring that people who are challenged in that way would attempt to walk. She herself is 82 but she's quite agile still and loved that fact that I got her out and about.
One day we walked not only next to the waterfront, but down Main Street and up and down Corinthian Island. Corinthian Island feels a bit like the French Riviera, with houses hanging off the side of the steep streets. At the top of the hill that makes up the island there's an enormous Italian-style villa, complete with columns, and a pair of benches to take in the view of San Francisco, Alcatraz and the Golden Gate Bridge.
Walking around town brings back so many memories. A few times we saw the little dinghies from the San Francisco Yacht Club junior sailing club plying the waters. My brother and I participated in junior sailing several summers, as did most kids growing up in Tiburon. I'll never forget the swim test we had to take to prove we could survive in the bay. We had to tread water for 10 minutes in the freezing bay. These days I bet the kids are allowed to wear wetsuits. I'll also never forget the handful of times my brother and I sailed to Angel Island. It felt like an adventure out of a story book. We might as well have been going to Treasure Island.
I also have memories of my own kids visiting their grandparents in Tiburon. One summer day I arrived in town with the kids and their new bikes. My parents and I spent a couple of hours teaching them how to ride a bike on the flat paths under the steady gaze of Blackie. (Blackie is a life-size statue honoring the old retired war horse who occupied the pasture next to Tiburon Boulevard for many years.) In no time at all, it seemed, the kids had mastered the bikes and rode down the path with ease.
At the current time, there is a lot of construction happening in downtown Tiburon. The Caprice restaurant next to Elephant Rock is being redone. Two other restaurants are under construction on Main Street. One will be headed by Michael Mina, the celebrity chef. The town is trying to cast itself as a destination dining spot. There are only about 10,000 people in Tiburon, not enough to keep the restaurants afloat without lots of tourist dollars.
The main restaurant people flock to now is Sam's, with its famous deck and view of the docks and bay. Sam's underwent a renovation a few years ago, adding heated benches and Mexican wool blankets to take the chill out of the foggy days. There frequently is a line to get into Sam's.
If you go to Tiburon on a summer weekend, you'll find that Main Street is closed to cars. The restaurants set up tables in the street and a band plays. It's a festive time.
My favorite spot in town is Ark Row, just beyond Main Street. Ark Row consists of a group of former turn-of-the-century houseboats that have been turned into shops. There's a wine tasting spot, a salon and a guitar store along the quaint stretch.
Sadly, the town's only cinema closed during Covid and the owner won't reopen. For my parents that is the loss of one of their favorite past times, seeing first-run movies at the local theater. I wonder what will become of the space. Maybe they'll turn it into condos. The town really can't support more retail as the current retail is already struggling.
There is another favorite spot we didn't get to this visit. It is the open space area at the top of Mt. Tiburon. There is a trail that traverses the crest of the hills and provides a 365-degree panorama of the bay. To the left is Richmond and Berkeley, the Richmond bridge looking like a toy erecter set crossing the bay. Straight ahead is San Francisco and the new, sleek Bay Bridge. Off to the right is the Golden Gate Bridge and Sausalito. Behind is Mt. Tamalpais. The property was in danger of being sold to developers until recently. Then a community group stepped in to save the property for open space. The large tract, 110 acres, will now be preserved. We've come here dozens of times for picnic and kite flying. I'm so glad it will be saved.
So long Tiburon. I'll be back soon, I'm sure!