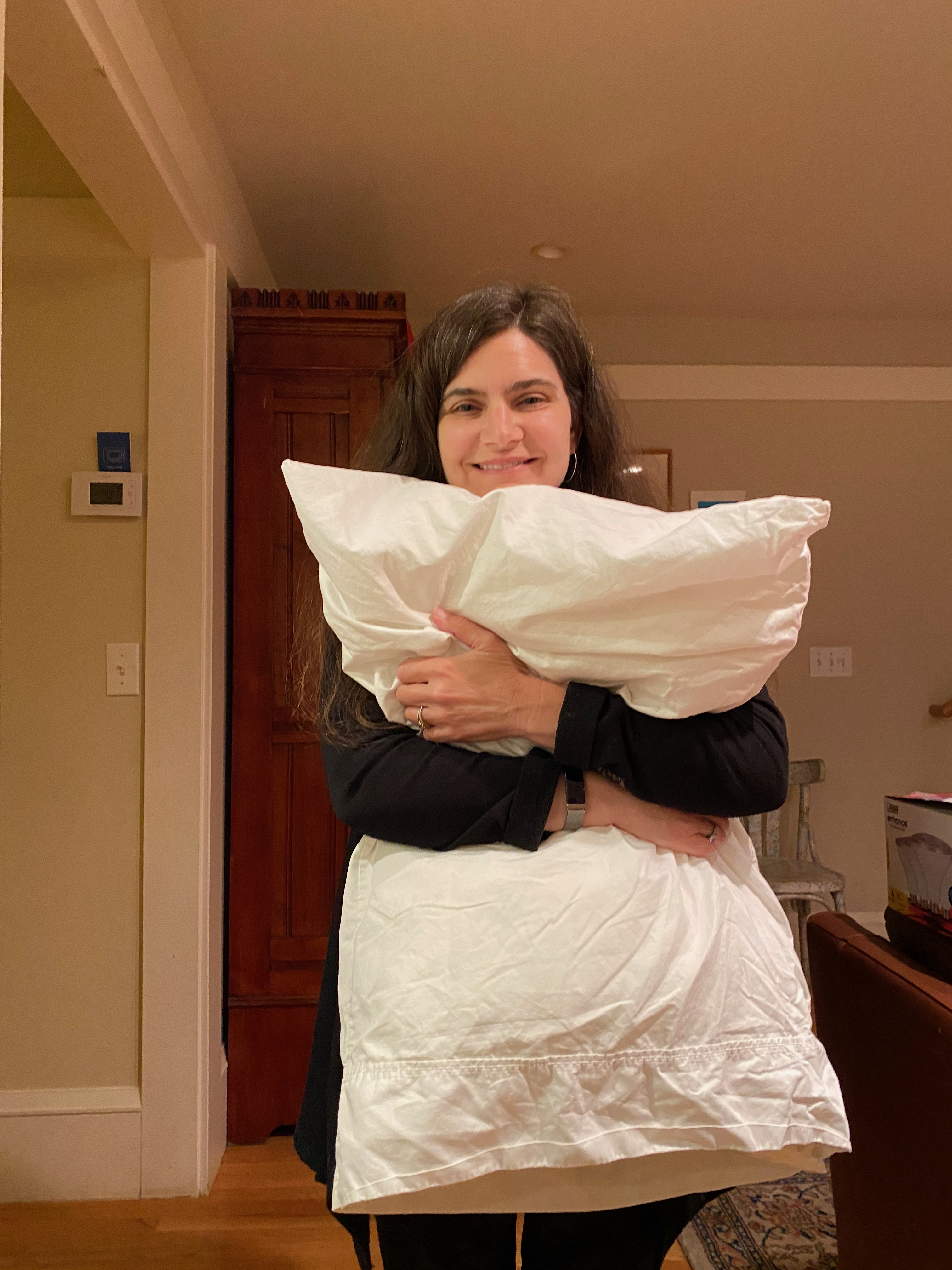 It all started three Christmases ago, long before the Jan. 6 insurrection at the Capitol and long before the right-wing conspiracies that the election was stolen.
My husband bought us a set of MyPillows. He had heard an ad on his trusted apolitical news station while driving to work, and he became convinced that these were the best pillows in the world.
I had never heard of MyPillows. When I took out my new pillow from the Christmas gift bag I was a bit skeptical. It felt bumpy inside. It wasn't filled with down feathers or anything solid. But it was soft and bouncy. What was inside of this thing? Had my husband fallen for a gimmick?
"You got MyPillows?" my dad said from across the room, with a laugh. "We just bought a set too!"
Wait. My parents knew about MyPillows?
It turned out they not only knew of the pillows, but the backstory that went with it. Mike Lindell, a Minnesota entrepreneur, had invented these pillows. After a slow start the pillows became hugely popular and turned Lindell into a wealthy man. In the process, he had turned his life around. He liked to talk about how God had worked a miracle in his life by taking away his appetite for drugs. He was now a committed Christian. Just Google Mike Lindell and MyPillow and you'll find a number of documentaries and videos about his story.
That sounds like a nice story, I thought. I'm also a committed Christian and I believe in miracles too. I'll give the MyPillow a whirl.
I slept on the MyPillow for two years. The inside is filled with small foam pieces. The pillow doesn't lose its shape. I was a MyPillow convert. My husband liked his MyPillow too.
Then, a few years later, I learned some disturbing news—disturbing for a liberal like me who was planning to vote for Biden. I read that Mike Lindell was a big Trump supporter. He and Trump were pals. It was 2020, the election year, and I wasn't sure I really could sleep on my MyPillow knowing that news. Still, I thought, it would be silly to throw out these pillows over a political difference. And I was still impressed by Lindell's personal story and faith.
Then came January 6, 2021, the day of the insurrection. Like most Americans, I was shocked as I watched and read about the events of the day. How could this happen in our country? Had Trump incited the violence? Who else was involved? There were reports Lindell met with Trump in the days leading up to the rioting. The Washington Post even captured a photo of a note he was holding that mentioned martial law.
I rethought my use of MyPillow. This wasn't a neutral object like a mixer. I put my head on this pillow each night as I slept. How could I sleep on this object that was connected to a man that may have supported the insurrection? I should burn this pillow. Or at least trash it.
But I didn't burn or trash the pillow. It really was the most comfortable pillow I had slept on. I didn't want to get rid of it. And Lindell's story still pulled at me. I don't hate Christians who follow Trump. I understand somewhat how they justify their support. I just don't agree with them. And I certainly don't agree with using violence. I'm sure most of them don't agree with violent acts either. My dad, for instance, is a big Trump supporter, but he would never condone violence.
A couple of months later I did something unthinkable (at least to my liberal friends). In a flurry of Covid reorganizing, I decided to replace the old, squishy pillows in the house with MyPillows. I thought about it a lot and tried to pretend I didn't know about Lindell's controversial politics. Confessing my purchase to a friend I said, "I guess my personal comfort level is greater than my political loyalties." I even got lured into buying a few other items on the site. I bought an American flag and mounting kit, fire starters for the fireplace, and pricey "Patriot" coffee.
In the meantime, Lindell was still insisting that Trump lost the election due to voter fraud. In response, several large stores stopped carrying MyPillows. Lindell told the press he was losing millions. Twitter banned him.
I waited weeks for the MyPillow order to arrive. From the looks of things, plenty of people were still buying MyPillows. Finally, my order arrived. I unwrapped the pillows and replaced our old sagging ones. I gave the coffee to my dad. He loved it so much he bought three more bags. In fact, my dad appreciated that I was giving business to a Trump ally. After four years of being at odds with one another politically, we could relate and chuckle a bit vis a vis Lindell's products.
I'm eager to put out my American flag at our front stoop. It's the first time since Obama that I would want to fly a flag. In fact, I've never flown a flag outside my house. But I'm truly excited that Biden is running the country and the Trump era–hopefully–is over, no matter how much Lindell and others keep touting him.
If you like my blog, please consider subscribing! Hit the subscribe button on the upper right corner of the main page. Thank you!