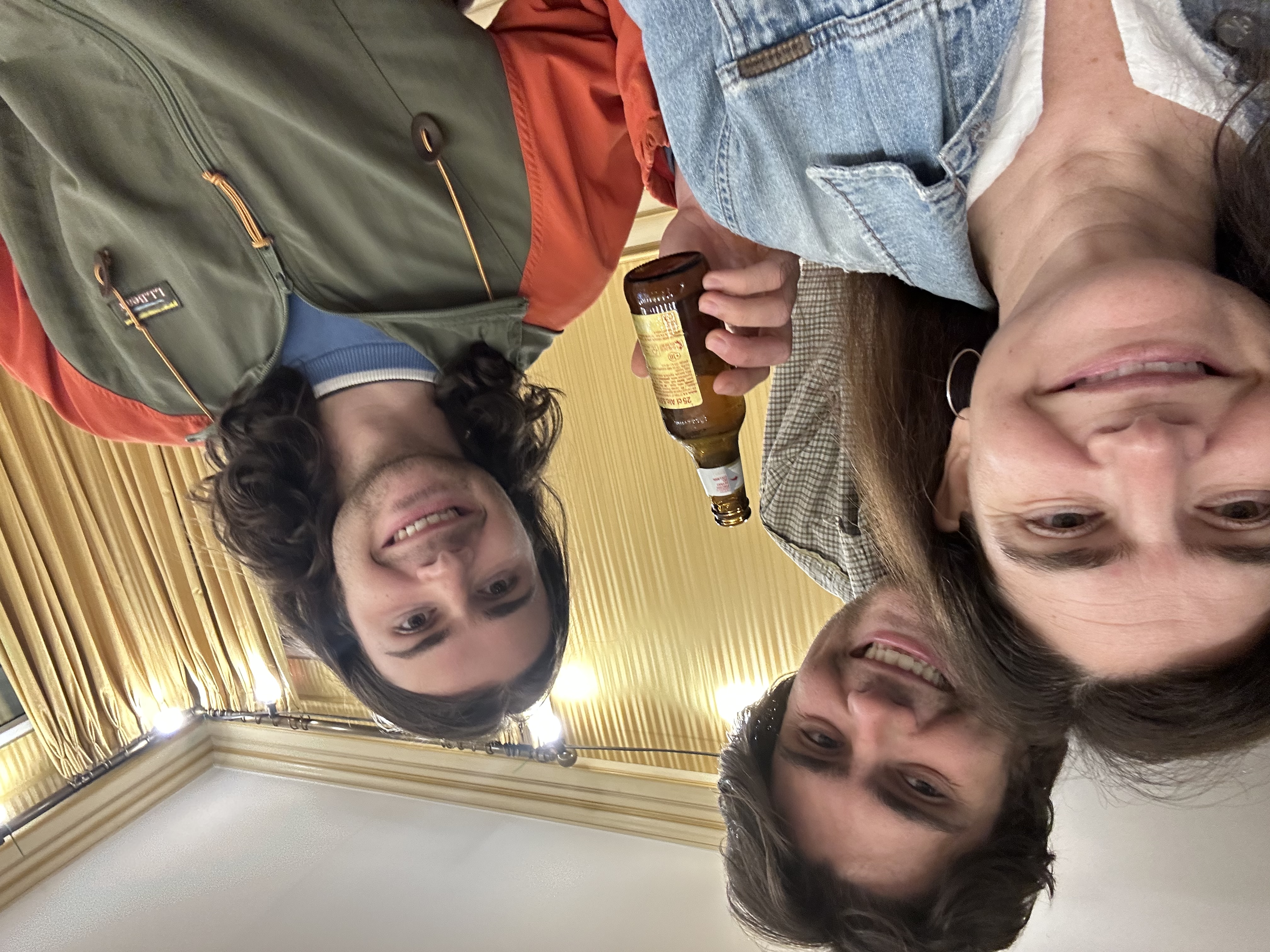 Our Spanish adventure 2023 has begun! It's amazing to think I haven't been here in 8 years, since 2015. Before that it was 2010-2011, the year we lived in Madrid and did our house exchange. After doing the house exchange I had grand plans to come back every year, but life and other travels got in the way. 
This trip started with a few snafus, as trips often do. Our plane from San Francisco to London was delayed and the check-in agent told us that all the connecting flights from London to Madrid were sold out (even though we had a ticket for a connecting flight). The end result—we would have to wait 12 hours overnight in London for a connecting flight with space.
In the disappointment of the moment, we walked away from the ticket counter without one item—the special gift we intended to give our Spanish hosts, Monica and Sebastian. The gift was a beautiful oil painting of a vineyard in California. It was the perfect gift because Sebastian sells wine and lived in California six years. In fact, we met Sebastian at a wine tasting event at the Berkeley Country Club and instantly became friends, thanks to his outgoing personality and our love of all things Spanish. In any case, we left the painting behind and only remembered it when we were about to board our flight. Fortunately, we had time to call the operator on an airport phone and find out how to file a lost and found report. It seemed like a long shot that we'd get the painting back. 
During our wait for the plane, travel-savvy Miguel found a snug little AirBnB 10 minutes from Heathrow. I had wanted to stay at a hotel even closer to the airport and take a train to the city center to ride the Eye, but Miguel probably made the right choice. "This way we can see a real neighborhood," Miguel said.
It's a 10-hour flight from San Francisco to London. We slept a good part of it but not enough. When we checked into our AirBnB, our host said we looked a little "knackered." And just like that a new word has entered our vocabulary! We asked our host where good Indian food would be and he gave us a few suggestions. We tried a place that was part pub, part Indian restaurant. In addition to the usual dishes of tikka masala, lamb curry, and samosas, we had an tasty naan with nuts and raisins inside. Then it was back to the AirBnB to sleep for a few hours before returning to the airport. 
Our next flight, to Madrid, felt quick compared to our last flight. Best of all, Sebastian had come to the airport to pick us up. He is the kind of person that radiates enthusiasm. He had never met my boys before as they had been away at school. He connected with them instantly.
Sebastian and Monica grew up in the Canary Islands and have a house there. Sebastian became a pilot and Monica worked for her family business in the travel industry. They had two sons (now 12 and 15) and 7 years ago they made a major life change. Sebastian hung up his pilot's hat, tired of being away from his family so often and he and Monica (who could work remotely) decided to come to California so their boys could learn English. They stayed in California 6 years and just a year ago returned to Spain so their boys could attend high school in Spain. They decided to live in Madrid because they felt the boys would get a better education there than in the Canaries. 
Last year, as Sebastian and Monica were preparing to leave California, they told us they had purchased a large house in Madrid and we were welcome to come visit any time. Specifically, they said the house had seven bedrooms and eight bathrooms. We were all curious to see the house. Upon our arrival, we had a grand tour. It is a large house, for sure, but it doesn't feel flashy. OK, maybe the living room, which is the size of my living room, kitchen and dining room and more, is a little over the top. And maybe the basement floor, which has a wine cellar, swimming pool, movie room, and exercise room is rather luxurious. Then there is the elevator. You really never need to leave home. TJ, Miguel and I all got our own rooms, with our own bathrooms. 
After settling in, Sebastian unveiled his new jamon leg and gave us fresh slices. It was just as delicious as we remembered—buttery and chewy at the same time. Then we had a delicious beef stew that Sebastian made (he's the cook in the house). It would be very difficult to be a vegetarian in Spain. Later that evening we called an Uber to have dinner with a family we had gotten to know through the boys' school when we lived here in 2010-2011. It was Miguel who first made the connection with the Lopez family. Early on Miguel was struggling with communication in Spanish and his home room teacher specifically assigned Gonzalo Lopez to be Miguel's buddy and help him along. Through Gonzalo, we meet his sister, brother and parents. They are all lovely people. The kids really hadn't changed. Only now instead of talking about what score they got on the "ciencias naturales" and matematica exam, they were talking about jobs and how to find the best one. We were definitely knackered after that dinner! It was time to sleep. 
The focus of our second day in Madrid was sleeping (still catching up with jet lag) and getting ready for a big party. Sebastian set up his giant paella pan on a huge portable burner  connected to a butane canister. We watched as his sister diced up garlic, onions, peppers, tomatoes, squid and many more ingredients, which his brother-in-law added to the pan. The aroma was amazing. 
The food was taken care of, but what about the seating? Where do you put 25+ people? Monica has been so busy with her work opening a new hotel in Vietnam this year that she hasn't had time to buy furniture for the dining room or living room. They solved this dilemma by buying several folding tables and 25+ folding chairs. In the end it was a grand feast. Someone brought a guitar and sang after dinner and there was a bit of dancing. I went to bed around 12 but my boys stayed up until 2 talking to the other young people. 
Back to the painting..I got an e-mail as we were taking off for London that they had "likely" found our painting (it's all wrapped up in paper) and will hold it for nine weeks. Yay! Sadly though, the cost of mailing might be so high it doesn't make sense to send it. We'll have to find another way to thank our generous friends. In the meantime, we did bring two bags of chocolate chips for the family to make cookies with. We learned back in 2010 that stores here don't carry chocolate chips. Who doesn't like chocolate chip cookies?