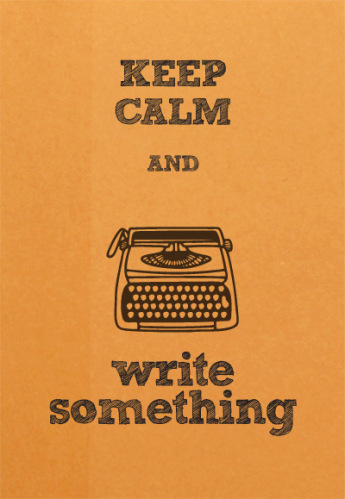 Writer's block. Since deciding to be more disciplined about writing, I've suffered my share of this. It's an uncomfortable feeling, staring at a blank screen and waiting for the words to come. You know lots of people experience it, but at that moment, when you face it, you feel like the only person in the world who is stuck. You feel isolated. It's a lonely feeling.
I used to only write when I felt inspired, when I already had an idea forming and I could just sit down and let the words flow. Now, though, I make myself write everyday, whether I feel inspired or not. Often I do have a kernel of an idea. But many times, I freeze up. I can't develop the kernel. I don't have enough to say. I switch topics or simply stare at what I've got and think for a long time.
Sometimes I avoid the discomfort of writer's block by avoiding writing altogether. I'm pretty good at that. Today, for instance, I found all sorts of things to do instead of sit at my desk. I started a load of laundry. I picked up the house. I noticed my bowl of lemons and remembered the recipe my sister-in-law gave me to make preserved lemons. I hunted for the old recipe and made a shopping list. I finally sat down at my desk and answered some e-mails. Then I got hungry. I had to eat. How could I use up the asparagus and noodles in my refrigerator? I threw them together on the stove with some cherry tomatoes, smoked salmon and butter sauce. I was feeling like I had accomplished a lot—but I hadn't written a word.
When I first decided to write more I cut back on my hours at work and pledged to dedicate that time to writing. Surely I would be churning out lots of great pieces! Instead I ran into a wall of writer's block. I was trying to write was about my recent travels to Guatemala. It had been life changing and full of adventure but I discovered I couldn't convey the experience the way I wanted and I was frustrated. After two weeks of tweaking, I had written an accurate summary of the trip but something was missing. I was so concerned in getting the big picture right that I forgot some of the rich details—the taste of the juicy mangos the village women gave us, the bump of the bus ride, and the odd juxtaposition of so many things, like the villagers' cellphones hanging from their handmade woven belts. I would write the piece differently now—and maybe I will.
I'm realizing more and more that good writing takes time. All creative work involves patience and attention. Meanwhile, other kinds of work bring more instant rewards—and that's alluring. I worked at a bookstore for almost three years. I enjoyed helping customers find the book they wanted so desperately they couldn't even wait for Amazon to deliver it. Either that or they came specifically to support their local bookstore. Then I would ring up their sale. I loved working the cash register. I always felt like a kid who was playing store, as though I was handling fake money. I enjoyed shelving new books fresh out of the box. I even enjoyed gift wrapping books, from carefully measuring out the paper from our big roll to affixing ribbons and a gold sticker. At the end of my shift, I saw tangible results. With writing, I don't always get to see a neatly wrapped package at the end of the day. I'm learning to be satisfied with that.
The most challenging thing about the kind of writing I'm doing is that nobody is the boss but me. I have to set my own goals. Only I know if I've wasted time surfing the internet or shopping online or reorganizing my closets. I've crossed paths with many creative types this past year and one thing I know for sure is that this work involves discipline. You have to show up and submit to the process, anticipating that writer's block or lack of inertia is all part of it.
For me discipline involves a bit of hocus-pocus. I once knew a woman writing her dissertation who wore a special hat whenever she sat down to write. I don't have a hat but instead I set up a schedule and an inviting space. I try to sit down to write at the same time everyday. I keep a notebook with two to-do lists: one with my writing goals and one with my other tasks. I tell myself I can't work on those other tasks until after I write. Various rituals encourage this: hot coffee at my desk, a clean workspace and a pad of lined paper for jotting notes. I try my hardest to protect this time. Most days this works; other times it doesn't.
I marvel at writers like Mark Twain who could write eight or ten hours a day with barely an interruption. I'm not sure I'll ever get to that point—I'm not even sure I want that. What I have discovered though, is that writing leads to more writing. Many writers talk about how they feel a compulsion to write every day. They can't live without it. The more I write, the more I understand that. Writer's block aside, the writing process is an exciting experience of discovery. You discover new ideas you didn't even know you had or had never formally stated. That can be intoxicating. That's what keeps me coming back for more.
I recently read writer Elizabeth Gilbert's book "Big Magic." She proposes that ideas live in the universe independently of humans. An idea might decide to visit you at a certain juncture in your life and if you are ready for it, you can work with it. If you're not ready, it will find another "home." She illustrates this with a story about how she once tried to write a book about a woman from Minnesota who goes to the Amazon jungle to uncover a mystery. It's also a love story. Gilbert worked on the book for several years but got sidelined by personal issues and put the project aside. Then Gilbert met writer Ann Patchett. After getting to know each other, Gilbert eventually learned that Patchett was working on a new novel. And what is the novel about? It's a novel about a woman from Minnesota who goes to the Amazon jungle to uncover a mystery. It's also a love story. Gilbert is astounded to learn that her idea had migrated to Patchett! Patchett's book became the bestselling novel "State of Wonder."
I'm not sure I fully believe Gilbert's idea that ideas are independent. But I'd like to. It adds to the mystery of this whole process. It also reinforces the concept that we are all intertwined and connected in powerful ways that we can't even see. Our experiences and interactions with others become like an elixir we can spill out on the page. Our words, in turn, then influence the next person that reads them and we never quite know the outcome.
Creative work demands not only discipline, but courage. I need to believe that I have something important to say. I have something original to add to the large body of material already out there. Writer's block often creeps in when I'm feeling doubtful and shy. I need to look writer's block in the face and say, "I don't believe you. I'm going to write anyway. This may not be a masterpiece, but it's good enough."
How do you face creative blocks? I'm always eager to hear how other writers or creative types work and think. Where do you get inspiration? How do you stay disciplined? Do you talk to other writers? Do you talk to yourself? For me the process, in all its meandering mysterious ways, is almost as interesting as the product itself.
When I worked at the bookstore, I always enjoyed hearing famous writers come in and talk about their writing process. None of them said it was easy. I take heart, knowing even the best struggle and have their good days and bad days. I know that all of this is part of the larger process, a process I'm only beginning to understand.